A fusion of ancient and modern fashion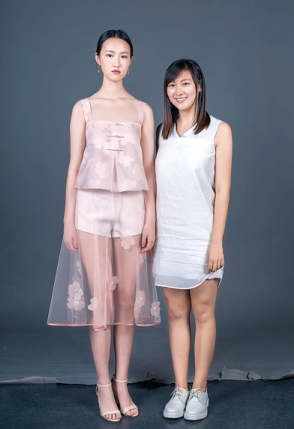 A model showcases a creation of Cai Wenqiao (next to the model), an undergraduate student at Parsons School of Art and Design. [Photo provided to China Daily]
"The eight years of studying abroad has taught me the differences between eastern and western cultures. For this project, I wanted to find a balance between them," said Cai.
Apart from the hanfu, the cheongsam is another piece of traditional wear that is frequently used as the basis of modern Chinese clothing. One of the brands that is well-known for its contemporary renditions of the cheongsam is Danmang.
Established in March 2015, the Chinese company creates a variety of cheongsam-esque clothes that can be worn for daily life, work and even sport. It also has several creations that feature hanfu elements. Danmang currently sells between 350 to 450 pieces of clothing every month.
"Customers choose our product because they want to wear clothes that combine urban style with Chinese elements such as a small collar or embroidery on the cuffs or shoulders," said An Shiliu, a co-founder and designer at Danmang.
Apart from aesthetics, another reason why Danmang's clothes are popular is because they are practical and comfortable. Traditional Han Chinese clothing and cheongsams are usually long and fall below the knee, which could make movement cumbersome, and come with tightfitting collars that could be uncomfortable.