The web we weave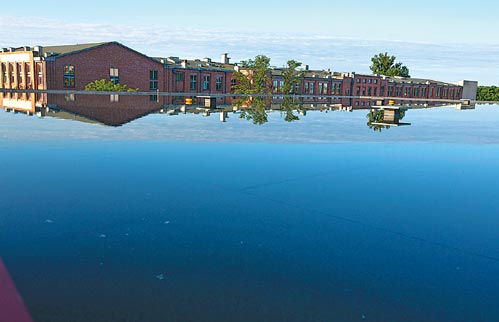 "Spider lab", a three-story redbrick building, located in southeast Berlin near the river Spree, is home to nearly 100 spiders. [Photo/Studio Tomas Saraceno]
Born in Argentina in 1973, Saraceno was trained in architecture before he became an artist. His knowledge in that area, compounded by his passion for the origins of the cosmos and the structure of space-time, has given birth to artworks that are one of a kind, in collaboration with some of the world's most famous scientific institutions, including the Massachusetts Institute of Technology.
Since 2008, Saraceno has been researching spiders and their behavior in weaving their habitats in his "spider lab". He was the first in the world to scan, reconstruct and reimagine spiderwebs, and owns a collection of the only three-dimensional renditions of these unique woven spatial habitats.
This year, Saraceno has taken his work on spiderwebs further with a new large-scale work titled Cosmic Dust Installation, featured in his first solo exhibition in South Korea, Our Interplanetary Bodies, which is now showing at the Asia Culture Center in Gwangju until March 25, 2018.
The artist says the work is a choreography of spiders' dances on their webs, the movement of the dust and their interaction with humans.
"It's a music concert between the dust, the spiders and our breath," he says, with audible excitement.
The installation contains a large installation of spiderwebs produced by the Nephila genus, more commonly known as golden silk orb-weavers.