The web we weave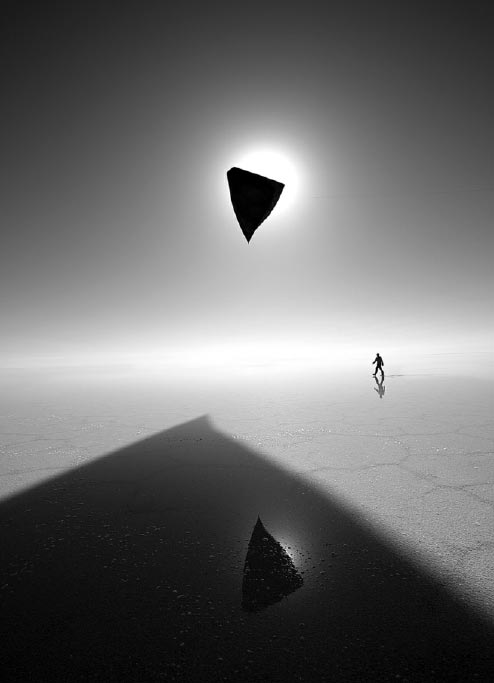 Eclipse of the Aerocene Explorer, a performance in Salar de Uyuni, Bolivia in 2016. [Photo/Studio Tomas Saraceno]
A large space in a three-story redbrick building, located in southeast Berlin near the river Spree, is home to nearly 100 spiders. Each of them comfortably rests in its own tiny framed cube-including some that live underwater in small tanks. They work hard as they weave their webs in various shapes and forms. But they're not intended to catch bugs for food; rather, they're to produce artworks that question the way humans live.
Welcome to the "spider lab" inside the studio of Argentinian artist Tomas Saraceno, who's renowned for taking inspiration from spiders and their habitat in creating unique artworks. His works allow audiences to reflect on the environment and the possibility of finding a sustainable way of living in and beyond our planet, where scientists have recently warned that humans only have another 30 years to take effective action in saving ourselves from the "sixth mass extinction".
"We (humans) are small in relation to other species living on Planet Earth, but we are part of this cosmic web-something that is bigger than our planet," says Saraceno during our meeting in his Berlin studio. "The idea of these complex spiderwebs helps us understand that we are part of this cosmic web." That philosophy is at the heart of Saraceno's art practices, which involve ongoing research that draws from the natural sciences, astrophysics and engineering. He describes himself as an artist who "lives and works in and beyond Planet Earth" in his biography-and he's not exaggerating.