Marriage of styles for first Serrano solo exhibition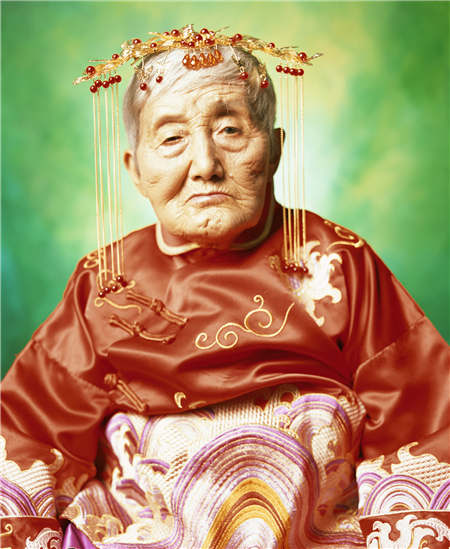 US artist Andres Serrano is showing his Made in China series in Beijing, including a portrait of an 84-year-old woman in a red wedding gown. [Photo provided to China Daily]
All the 36 people who posed for him were dressed in traditional red Chinese wedding costumes. Serrano explains that the gowns allowed him to find the dignity and character of the models, who were all carefully selected. He dressed an 84-year-old woman in magnificent wedding attire, whom he says he "treated like a queen". He met her in a village near where he was staying.
"I tried to find people who have worked hard all their lives. They have a unique character which you can see in their faces," Serrano explains of his attraction to people from different walks of life.
Yan Shijie, founder of the Red Brick Art Museum, invited Serrano to join the museum's artistic residency project. He says due to the limited time Serrano had in Beijing, the artist wasn't able to explore the subject more deeply. This meant that Serrano was only able to present his Made in China series while keeping a certain distance from the country.
However, Yan says Serrano's other works on display offer Chinese audiences a glimpse into US society from a US perspective.
The bulk of Serrano's works are portraits, and many of the works in this exhibition are taken from his America series, which include photos of 115 Americans he shot after the Sept 11, 2001, terror attacks. He took photos of all kinds of people, including firefighters, soldiers, homeless people, celebrities, stars and the rich.