Rare Song, Ming porcelains to be auctioned in HK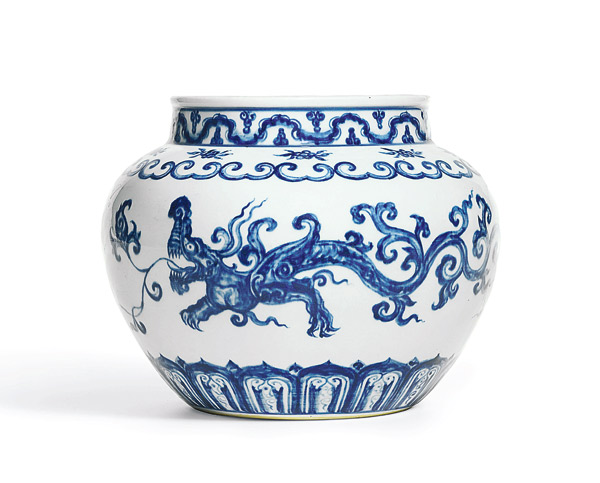 Two Ming Dynasty (1368-1644) blue-and-white porcelain pieces will go under the hammer at Sotheby's major autumn sale in Hong Kong on Oct 3. [Photo provided to China Daily]
One is a covered bowl bearing Buddhist emblems and blooming lotuses as auspicious symbols.
The other is a jar painted with a makara, a mythical Hindu sea creature.
Both were produced during Xuande's reign, which was the apex of cobalt-blue porcelain's production.
Chow says Qing porcelain has long overshadowed Ming wares, but that has changed in the past couple of years, largely because more quality collections have been appearing in salerooms.
Collectors are particularly fond of pieces from the early Ming period-namely, works created during the reigns of Yongle and Xuande-and rare works from Chenghua's reign in the 15th century's second half.
"Ming porcelain was undervalued for a long time," he says.
"So, there's still room for that market to continue to grow."