Rare Song, Ming porcelains to be auctioned in HK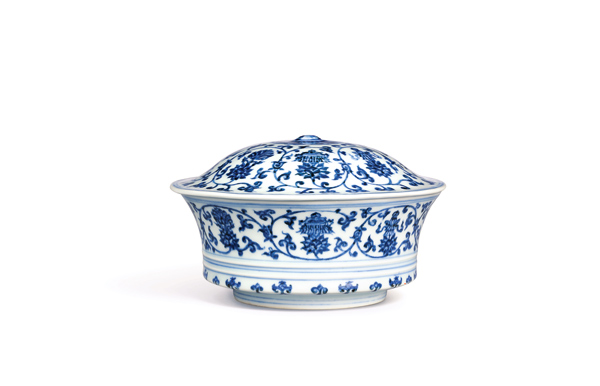 Two Ming Dynasty (1368-1644) blue-and-white porcelain pieces will go under the hammer at Sotheby's major autumn sale in Hong Kong on Oct 3. [Photo provided to China Daily]
The washer boasts a sound origin of source. It once belonged to the Taipei-based Chang Foundation, a private assemblage of quality Chinese works.
Chow says it stands as an example of Song ceramics that underpin artistry and subtle aesthetics-especially considering government-run Ru kilns are generally believed to have operated for about two decades.
"The mythology surrounding Ru wares goes almost as far back as when it was first produced in the late 11th and early 12th centuries, exclusively for the Northern Song (960-1127) court for a period spanning a mere 20 years," Chow says.
"Literary references abound. And Chinese emperors throughout the centuries are known to have collected Ru wares."
Qing Dynasty (1644-1911) emperor Yongzheng, for instance, passed 21 pieces on to his son, emperor Qianlong, who then actively sought more, Chow says.
Chow says awareness about Song ceramics has been increasing in the market for the past half decade or so. Most great porcelain pieces from the dynasty were previously purchased by collectors from Taiwan and such countries as Japan. But more are being bought by people from the Chinese mainland.
A "sky-blue" glazed Ru washer sold for HK$207,860,000($27 million) at a Sotheby's Hong Kong auction in April 2012, setting the record for the highest price for a Song piece.
Sotheby's will also auction two Ming Dynasty (1368-1644) blue-and-white porcelain pieces on Oct 3.