From caves to the stage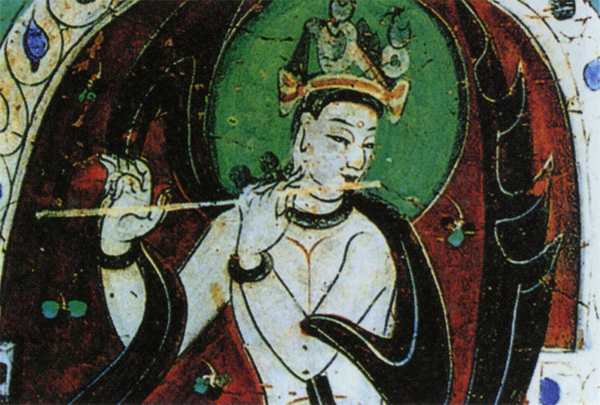 Dancers from the National Ballet of China rehearse for Dunhuang, which is inspired by the Buddhist art and frescoes in the Mogao Caves. JIANG DONG/CHINA DAILY
Sun, who's now 92, joined the academy in September 1947 at age 22. He worked on rebuilding the caves. His wife, Li Qiqiong, worked there for more than 60 years after arriving in Dunhuang in 1952 to study and copy the paintings on the walls.
Sun told Fei that he carried a wooden stick to guard against wolves in the area when he and Li went to the caves in the evenings.
Guan, the archaeologist, showed Fei a group photo taken in the 1950s. Only two of the people in the photo, including Guan, who's 87, are still alive.
The experts forgot about how tough life was back then when they focused on the art, Guan told Fei.
Such anecdotes formed the basis of Fei's ballet that is set in a place of blue skies and yellow desert. It portrays a group of passionate young people devoting their lives to art.
"The experts must have felt lonely in the desert. But they put their hearts into the work," says the choreographer.
Composer Guo Wenjing created the score.
"To me, Dunhuang-the place and the desert-are just the background. I focus on the people. From my score, you can hear a story about ideals, beliefs, youth and love," he says.
The 61-year-old is one of China's best-known composers. He and his peers, including Tan Dun, Zhou Long, Chen Yi, Ye Xiaogang, Qu Xiaosong and Liu Suola, were the first students to be admitted to the Central Conservatory of Music in 1978, after the "cultural revolution" (1966-76).
Many from that batch went to Western countries to study classical music. Guo chose to stay in China. His music combines traditional Chinese folk elements and Western composition techniques.
"This piece will be the most romantic among all my works. The paintings, the flying apsaras, the desert and the blue sky will be written as the colorful timber to reinforce love, sadness, union and separation," says Guo.