From caves to the stage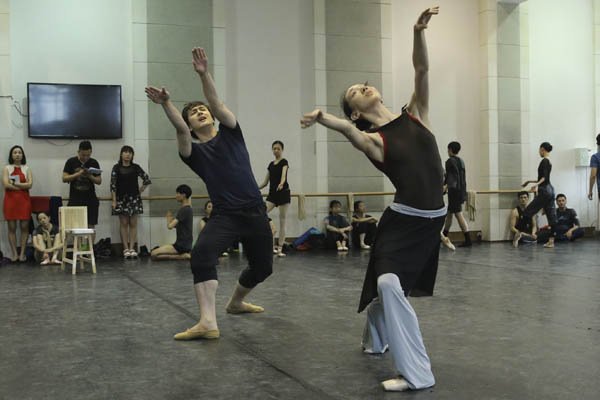 Dancers from the National Ballet of China rehearse for Dunhuang, which is inspired by the Buddhist art and frescoes (above right) in the Mogao Caves.
The academy's former director, 79-year-old Fan Jinshi, shared with Fei the adventures of the first archaeologists and artists. The academy was founded in 1944 by artist Chang Shuhong (1904-94).
In 1935, in an old bookstore along the Seine River in Paris, Chang, who then lived in France, discovered a photograph featuring hundreds of Dunhuang paintings and manuscripts. It was written by Paul Pelliot, the late French Sinologist, who is known in the West for rediscovering Dunhuang.
Chang didn't know about the caves that contain some of the finest examples of Buddhist art that spans over 1,000 years.
He returned to China to study and preserve the Dunhuang grottoes.
Chang arrived in Dunhuang in early 1943. He endured poor living conditions. He lived in a dilapidated temple where his bed, desk and chairs were made of clay.
The place didn't have electricity. And the nearest village was a long walk away. Chang's wife couldn't stand it. She left him and their two children.
But Chang stayed. He even encouraged his son and daughter to join his mission. He also trained young archaeologists, such as Fan, Sun Ruxian, Li Qiqiong and Guan Youhui.
Fan joined the academy after she graduated from Peking University's archaeology department in 1963. She focused on studying the Mogao paintings from the Northern Dynasty (386-581) up to the Tang Dynasty (618-907).
Fan became the academy's third director in 1998.
Fan and the others worked day and night. After sundown, they observed the paintings in the light of an oil lamp and copied them on paper.
"The oil lamp also lit up everybody's heart," Fan says.