Building a better Africa
Chinese aid is helping drive development on the continent, starting with the construction of roads, factories and healthcare facilities
China's foreign aid to low-income developing countries has, over the years, significantly boosted economic development and improved living conditions in the recipient nations.
According to various government white papers, China has given aid to more than 160 countries, including at least 123 developing nations that regularly receive assistance. Of them, 30 are in Asia, 51 in Africa, 18 in Latin America and the Caribbean, 12 in Oceania and 12 in Eastern Europe.
China emerged as the largest provider of finance for infrastructure in Africa in the years between 2009 and 2012. In 2015, during a high-profile Forum on China-Africa Cooperation, President Xi Jinping committed to providing another $60 billion (50.2 billion euros; £44.3 billion) in assistance to the continent. Between 2000 and 2012, China launched almost 3,100 projects in Africa, according to AidData, a research laboratory that tracks global aid efforts. As of 2015, AidData was tracking some 2,650 China-funded projects, worth around $94 billion, in 51 countries in Africa.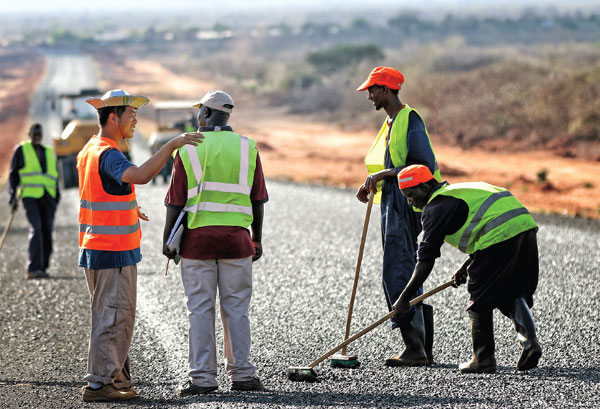 A Chinese engineer consults with local workers at a road construction site in Kenya. Zhou Xiaoxiong / Xinhua
"China is without a doubt a major donor for Africa," says Liu Wen, a spokesman at the China-Africa Business Council. "China and Africa have been working very closely together for a long time. The cooperation has helped speed up development in Africa."
Since 2000, China has further solidified its role as a major donor for the continent. China established the China-Africa Business Council and the Forum on China-Africa Cooperation, the latter of which includes 44 African countries. China also provides debt relief, training programs and investment for Africa.
In 2006, China canceled Africa's debt of $1.4 billion, set up a $5 billion fund through soft and commercial loans, and agreed to build 30 hospitals and provide training for 15,000 people in the continent.
Between 2000 and 2012, China took on more than 1,700 African projects, spanning more than 50 countries at a total cost of more than $75 billion.
"Most of China's aid in Africa goes to the transport, energy and communications sectors. About 70 percent goes to infrastructure development," says Liu. "Other sectors like education and health also benefit a lot from China's aid, but not as much as infrastructure-related sectors."
According to Liu, China's aid in infrastructure accounts for more than 30 percent of the total value of Africa's infrastructure projects.
Nigeria, Ghana and Sudan are the largest recipients of Chinese aid in sub-Saharan Africa. Most of aid going to energy infrastructure, such as oil pipelines.
This is in line with China's overall foreign aid strategy.
"China's foreign aid projects are oriented toward agriculture, industry, economic infrastructure, public facilities, education, and medical and healthcare," says a government white paper.
It adds that China's focus is on "improving recipient countries 'industrial and agricultural productivity, laying a solid foundation for their economic and social development, and improving basic education and healthcare".
China has been increasing its aid to the agriculture sector, especially for grain production.
The nation has stepped up measures to address the global issue of food security, such as its pledge to the United Nations in 2010 to establish 30 demonstration centers for agricultural technologies in other developing countries. It also pledged to send 3,000 agricultural experts and technicians to those countries, as well as offer training to 5,000 agricultural personnel there.
The latest government figures show that in Guinea-Bissau, 11 areas for paddy rice, with a total growing area of 2,000 hectares, were built with the help of Chinese agricultural experts. And in Madagascar, Chinese experts assisted in the planting of 34 strains of Chinese hybrid paddy rice.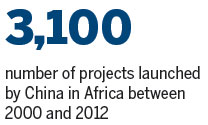 In terms of industrial projects, China plays an active role in promoting production and economic development in other developing countries.
The projects involve industries in areas as varied as lighting, textile, machinery, construction materials, chemicals, electronics and energy. Among the most profitable projects are the Cimerwa Cement Factory in Rwanda and the Loutete Cement Factory in the Republic of Congo. Outside Africa, other successful projects include the Rioja Cement Factory in Peru and the Agriculture Machinery Factory in Myanmar.
Such projects also create jobs for a large number of local people.
Neil Wang, Greater China president with consulting firm Frost & Sullivan, points to a measure for the management of China's aid-funded projects, issued by the Ministry of Commerce in December 2015.
"The measure regulates the procedure of procurement, construction and assessment of the projects, and ensures the quality of foreign assistance projects," Wang says.
"The majority of foreign assistance from developed countries goes to raw-material production and humanitarian assistance," he says. However, he adds that the majority of China's foreign assistance goes to public social facilities and economic infrastructure, "such as construction and improvement of hospitals, schools, construction of electric transmission (and) roads".
Chinese aid has enabled the establishment of municipal utilities, wells for water supply, conference centers, cultural centers, sports venues and facilities for scientific, educational and healthcare purposes.
Major public facilities built with Chinese aid include the Moi International Sports Center in Nairobi, Kenya; the Friendship Hall in Khartoum, Sudan; and the Cairo International Convention and Exhibition Center in Egypt.
Public welfare facilities include a capital water supply project in Nouakchott, Mauritania; water supply projects in Chalinze, Tanzania and Zinder, Niger; and low-cost housing projects in Angola and Suriname.
China has also helped build hospitals in the Central African Republic, Guinea-Bissau, Zimbabwe and Chad.
According to the white paper, China has built more than 30 malaria prevention and treatment centers in Africa, and provided anti-malaria medicines worth 190 million yuan ($28.3 million; 23.74 million euros; £20.87 million). China has also provided the hospitals with medical equipment and trained medical workers for other developing countries.
In addition, the nation has played key roles in economic infrastructure projects. These include the Belet Uen to Burao highway in Somalia, the Tanzania-Zambia railway and the Sana'a to Hodeida highway in Yemen.
"China's infrastructure projects in other developing countries help to improve the livelihood of the local people," says Chen Qi, foreign policy researcher at Tsinghua University in Beijing.
"Because China has the resources, technologies and expertise that those countries lack, China's role is key to creating better conditions for the economic development and quality of life in poorer nations."
In recent years, coping with climate change has also become a key area for the nation's foreign aid.
China has helped developing countries in Asia and Africa to build small and medium-sized hydropower stations to meet local electricity demand, as well as for agricultural and industrial production.
China has passed on biogas technologies to Guyana and Uganda, helping them to reduce their dependence on imported fuels.
To address the problem of global warming, China has cooperated with Tunisia, Guinea, Vanuatu and Cuba on biogas projects and assisted in the building of hydropower stations in Cameroon, Burundi and Guinea. It has also cooperated with Mongolia, Lebanon, Morocco and Papua New Guinea in exploring solar energy and building windpower stations.
"Going forward, China will continue to play an important role in the development of poorer countries, especially African countries. A very wide range of sectors benefit from China's aid," Chen says.
For China Daily