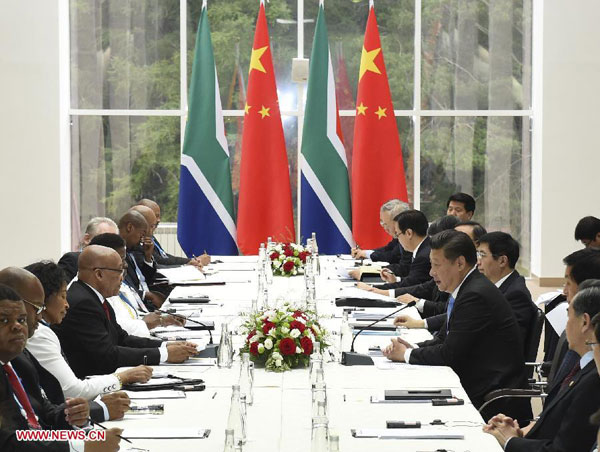 Chinese President Xi Jinping meets with South African President Jacob Zuma in Ufa, Russia, July 9, 2015.[Photo/Xinhua]
China is willing to work with South Africa to make the FOCAC meeting a grand gathering for strengthening China-Africa solidarity and charting out the future of their cooperation, said Xi.
Zuma, for his part, agreed with the positive evaluation on South Africa-China ties made by President Xi, saying that the bilateral ties are built on the foundation of high-level mutual trust.
Recalling the important consensus reached by the two countries on deepening bilateral ties during his state visit to China last year, Zuma said the cooperation in marine economy, finance, agriculture, tourism, science and technology and energy are being carried out smoothly based on the plan set by the two sides.
In multilateral affairs, the two countries have maintained effective coordination, said the South African leader.
Stressing the irresistible development momentum of the BRICS countries, Zuma said South Africa agrees that the BRICS nations should enhance cooperation so as to improve the capabilities of emerging-market economies and developing countries in safeguarding their common interests.
South Africa, said Zuma, appreciates China's long-term and tremendous support to the economic and social development of African countries and its understanding of African countries' positions on major international issues, as well as the great importance it attaches to the FOCAC.
As the host of this year's FOCAC meeting, said Zuma, South Africa hopes the event could achieve positive results through close cooperation with the Chinese side.
In addition, he said South Africa hopes to boost cooperation between African countries and China in the health sector under the framework of FOCAC.
Xi arrived in Ufa, capital of Russia's Bashkortostan Republic, earlier Wednesday to attend the seventh BRICS (Brazil, Russia, India, China and South Africa) summit and the 15th meeting of the SCO Heads of State Council.