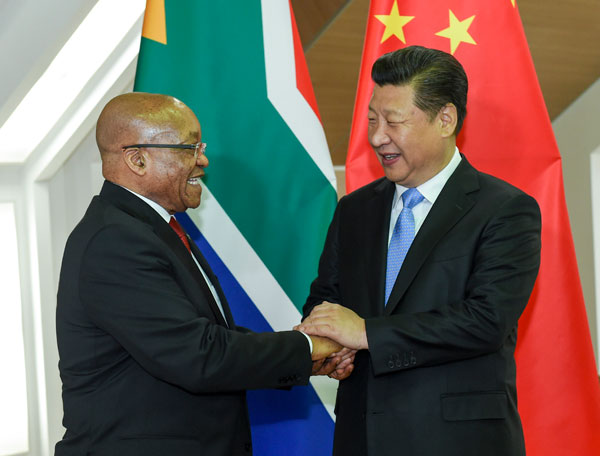 Chinese President Xi Jinping (R) meets with South African President Jacob Zuma in Ufa, Russia, July 9, 2015.[Photo/Xinhua]
UFA, Russia - China and South Africa agreed here on Thursday to stand together to safeguard the common interests of emerging market economies and developing countries.
The pledge was made during talks between Chinese President Xi Jinping and his South African counterpart, Jacob Zuma, ahead of the BRICS and Shanghai Cooperation Organization (SCO) summits in the southwestern Russian city of Ufa.
China is willing to strengthen cooperation with South Africa within the mechanism of BRICS, in an effort to better build the BRICS countries, while enabling them to play a constructive role in international affairs, said Xi.
The ties between China and South Africa are at their best time in history, with strong development momentum, he said.
Xi recalled the state visits he and Zuma had paid to each others' countries over past two years, during which they mapped out long-term and comprehensive plans for bilateral cooperation.
China and South Africa have scored tangible results in strategic cooperation in important sectors, which significantly enriched the connotation of the comprehensive strategic partnership between them, Xi noted.
China, Xi said, is willing to enhance coordination and cooperation with South Africa, with special focus on such areas as marine economy, production capacity, special economic zone, energy and finance, so as to translate the bilateral friendship and political mutual trust into tangible cooperation results and better benefit the two peoples.
"I am delighted to see that China and South Africa have maintained sound communication and coordination on major international issues," said Xi.
China and Africa are always a community of common destiny and common interests, said Xi, adding that enhancing solidarity and cooperation with African countries has always been a cornerstone for China's foreign policy.
China is willing to join hands with Africa in translating their friendship into cooperation and development momentum, so as to achieve win-win results and common development, said the Chinese president.
The year of 2015 marks the 15th anniversary of the founding of the Forum on China-Africa Cooperation (FOCAC). The 2015 meeting of the FOCAC will be hosted in South Africa and co-chaired by both countries.