Multiplicity of advantages of bilingualism lauded in studies
Research in the area of bilingualism has improved vastly in the last 20 years. Learning a second language has a powerful influence on our brains.
Bilingualism helps students to be more socially and emotionally skilled.
Studies have shown that when children are in a bilingual environment, they need to determine which language to use with each individual at home and at school.
As a result, they are essential learning how to take on different perspectives, which leads to earlier developments in areas such as empathy.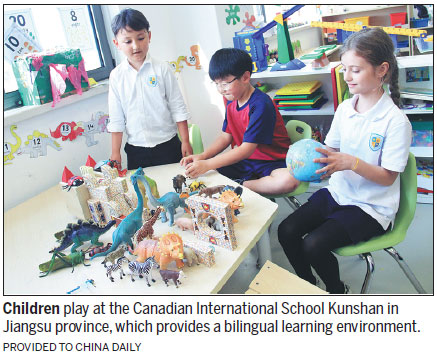 Learning a second language also helps students to become better readers in both languages.
In learning to read in the second language, students use the skill of decoding. That decoding skill has been found to transfer across both languages resulting in better reading skills.
Studies have also shown that dual language learners are generally more successful in school. Outside of academic achievement, dual language students had better attendance rates and less problem-related behavior.

When a second language is learned, a second culture is also learned. Being raised with one language and one culture can make it more difficult for individuals to be culturally intelligent.
As a result, bilingual individuals are more likely to be open-minded and adaptive. So, bilingualism increases the development of intercultural and communication skills.
In the past, the prevailing thought was that bilingual education would confuse students.
However, current research shows that children successfully use both languages and switch readily between the two. This type of brain function has been shown to support students in multi-tasking, decision-making, and problem solving.
Looking to the future for our children, those who are bilingual have more opportunities open to them.
They can attend higher level education in either or both languages. In addition, these individuals then have an advantage over monolinguists when it comes to career opportunities and opportunities for advancement.
The Canadian International School Kunshan is recognized by the International Baccalaureate Organization as an IB world school, offering a dual language program.
Our students have the opportunity to complete the International Baccalaureate's Diploma Program and receive a bilingual IBDP certificate.
With all the advantages of bilingualism and the IBDP bilingual certificate, our students have an exceptional foundation for their university studies and career success.
The author is the principal of the Canadian International School Kunshan.