Curtain going up on Chinese film festival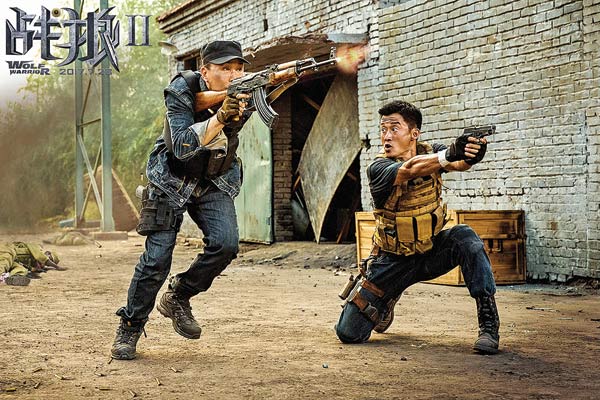 Wu Jing (right) in a scene from Wolf Warrior 2. The actor will be in London this week for a film festival. [Photo/China Daily]
Wu Jing, the star and director of the Chinese box-office smash Wolf Warrior 2, will be among top actors and other talents on the red carpet in London at the fifth China-Britain Film Festival.
The event aims to showcase some of the best China-made movies, allow for the exchange of movie-related ideas, and act as a platform to promote Chinese culture to an overseas audience.
Kong Xiangxi, president of the China-Britain Film Festival, said: "We are very pleased that this festival can be one of the major events of Sino-British cultural exchange. It means that our past achievements are well-recognized by both governments and we feel that we should take more responsibility in the film industry, in order to tell good Chinese stories and to let Western countries know more about China."
The Great Wall actors Zhang Hanyu and Zheng Kai will also make appearances at the festival.
Yu Nan, who won the best actress award at the Paris International Film Festival for her role in the 2004 film Jingzhe, is expected to attend the London festival, as well as 16-year-old up-and-coming actress Zhang Zifeng.
This year's theme for the festival is "new era for a more modernized, global and prospective China-UK film exchange".
Organizers hope the festival will build bridges and open up a new chapter of film exchanges. The event also marks the 45th anniversary of the establishment of ambassadorial-level diplomatic ties between China and the United Kingdom.
Organizers say the event, which was launched in 2013, is one of the largest and most influential international Chinese film festivals outside China.
The festival's awards ceremony will be hosted by Chinese-American actor David Wu and its judging panel will include Chinese directors Zhao Hantang and Zhang Yibai.
Last year's awards saw Duan Yihong named best actor for his role in The Dead End. The movie also scooped the best film prize. Gong Li took home the best actress award for her performance in The Monkey King 2.
The festival also features a series of forums and talks aimed at motivating filmmakers and encouraging collaboration.
The fifth China-Britain Film Festival begins on Wednesday.