Flynn admits lying to FBI, offers to cooperate
Analysts: Political uncertainty has weighed on the financial markets
WASHINGTON - Former US national security adviser Michael Flynn on Friday pleaded guilty to lying regarding improper contacts with foreign officials, as the government said the charges implicated no one else in the White House.
He also agreed to cooperate with prosecutors delving into the actions of President Donald Trump's inner circle before he took office.
Flynn was the first member of Trump's administration to plead guilty to a crime uncovered by special counsel Robert Mueller's wide-ranging investigation into allegedly foreign attempts to influence the US election last year and potential collusion by Trump aides.
"It has been extraordinarily painful to endure these many months of false accusations of 'treason' and other outrageous acts," Flynn, who was fired from his job in February, said in a statement.
"Such false accusations are contrary to everything I have ever done and stood for. But I recognize that the actions I acknowledged in court today were wrong, and, through my faith in God, I am working to set things right," he said.
Analysts said political uncertainty has weighed on the financial markets. All three major indexes fell sharply after the news, with the Dow Jones industrial average dropping over 300 points around midday on Friday.
Mueller's office issued a statement earlier on Friday specifying Flynn's charges, saying he lied to the Federal Bureau of Investigation about two contacts he's had with Russian officials before assuming office.
Flynn had falsely stated that on or about Dec 29, he did not ask the Russian ambassador to the United States to "refrain from escalating the situation in response to sanctions" from the US and that he did not remember receiving a call from the ambassador notifying him that Russia has decided to moderate Moscow's response at the request of Flynn, the statement said.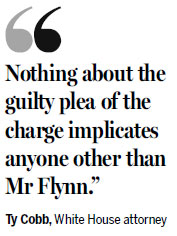 The special counsel's office found that Flynn also falsely stated that he did not on Dec 22 ask the Russian ambassador to "delay the vote on or defeat a pending United Nations Security Council resolution", and that he did not remember receiving a subsequent call from the Russian side.
White House 'a victim'
Ty Cobb, a White House attorney, issued a statement following the revelation saying the White House has also been a victim of Flynn's lies and downplaying the implications of Flynn's plea.
"The false statements involved mirror the false statements to the White House officials which resulted in his resignation in February this year," Cobb said.
"Nothing about the guilty plea of the charge implicates anyone other than Mr Flynn," he said.
In October, Mueller's office charged Trump's former campaign manager Paul Manafort, Manafort's deputy Rick Gates, and campaign adviser George Papadopoulos with lying to the FBI. While Manafort and Gates pleaded innocent, Papadopoulos admitted the charges.
Xinhua - Reuters - AP
(China Daily 12/03/2017 page11)