Chinese characters lead in UK comedy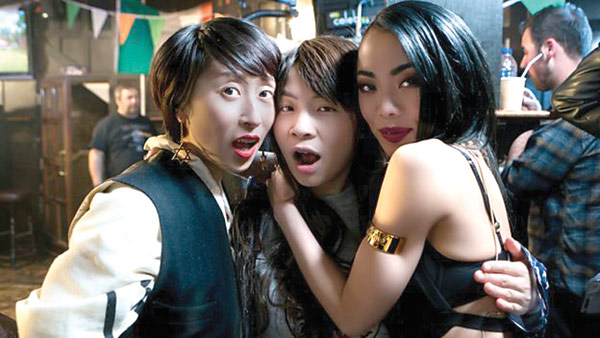 Yennis Cheung (right) and Shin-Fei Chen (center) in Chinese Burn. [Photo/China Daily]
Chinese Burn, a new BBC Three comedy that follows the misadventures of three Chinese women in London, has provoked debate among reviewers and the public for its handling of racial stereotypes.
Five years ago, London-based Chinese actors Yennis Cheung and Shin-Fei Chen met at an audition and swapped stories about the entertainment industry in the United Kingdom, lamenting the quality and quantity of roles for Chinese characters in British television.
The two women decided to write and star in their own sitcom, and the pilot for Chinese Burn aired on Monday on BBC Three.
A Chinese burn is a colloquial British term, normally used by school children, to describe twisting the skin on someone's wrist in opposing directions to create a burning sensation.
From the time the opening credits roll, the show makes good on its promise to subvert stereotypes of"sweet and innocent Chinese girls".
The show follows three Chinese women as they navigate the trials of modern life in London - from drunken nights out, to ill-fated relationships and failing careers.
Jackie, played by Cheung, is a combative, headstrong aspiring actress. Unlucky-in-love Elizabeth, played by Chen, is a heavy drinker who lies to her overbearing parents about being a sommelier while working for a bubble tea shop in Chinatown. And Fufu, played by Yuyu Rau, is a wealthy and eccentric fashion designer who has arrived"fresh off the plane" from China.
Chinese Burn has received qualified praise from some British reviewers. The Guardian commented on the show's "compelling mix of physical comedy" and "fast banter", and comedy news website Chortle noted its swift pace and "spirit and energy".
Both reviews remarked on the show's handling of its male Asian characters, particularly Elizabeth's boss Huang Lo, played by Sheng-Chien Tsai, who is portrayed as crude, feeble, and sexually inadequate.
British-Chinese actor Siu-see Hung wrote on Twitter: "Feel so hurt by Chinese Burn - BBC Three, how could you let something so damaging air?"
Chen defended the show on BBC Radio 4 on Tuesday, saying: "In order to smash stereotypes you kind of have to offer them up first."
David Tse, a British-Chinese actor and founder of the London-based Chinese Arts Space, said he was encouraged to see more Chinese protagonists on British television, where he says Chinese actors are hugely underrepresented.
"It's great that these women have done this show and have shown a lot of initiative," Tsesaid. "Comedy in particular is extremely risky territory. There are hits and misses."
A second episode of Chinese Burn will follow the pilot should the BBC Three take it to series.