Flights fetch stranded Chinese in Bali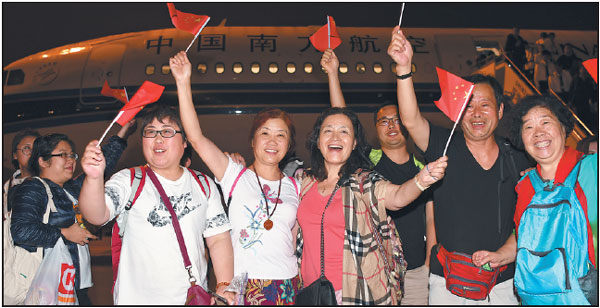 Chinese tourists who were stuck in Bali arrive at Shenzhen airport in Guangdong province on Thursday. China has laid on extra flights to the island to bring home thousands of passengers stranded by the eruption of Mount Agung.Chen Wen / China News Service
China sent flights to fetch Chinese travelers stranded on the Indonesian holiday island of Bali after a volcano erupted, the top civil aviation authority said on Thursday.
Bali's airport was closed from early on Monday until Wednesday afternoon, stranding more than 10,000 Chinese travelers, after Mount Agung began spewing ash and smoke.
The Civil Aviation Administration of China had launched an emergency-response mechanism, requiring state-owned carriers China Eastern and China Southern, Xiamen Airline to properly arrange help for stranded travelers. Those airlines operate routes between China and Bali.
The airport reopened at 2 pm on Wednesday to 7 am on Thursday. The administration sent six fights from China Southern and China Eastern to bring Chinese travelers back home on Wednesday night.
By 9:30 am on Thursday, seven flights from domestic airlines were sent to Bali and brought 1,658 travelers home.
Another thousand travelers are scheduled to be carried home by domestic airlines later on Thursday, the administration said.
It also coordinated with international airlines to bring Chinese travelers home. By 9:30 am on Thursday, 16 flights carrying 2,893 Chinese tourists returned home. On Thursday, another 2,703 travelers were scheduled to be brought home by international airlines.
CAAC is maintaining communication with local departments, aiming to bring all stranded Chinese travelers home as soon as possible.
From January to September, Bali received 4.5 million foreign tourists, nearly half of the 10.5 million arrivals in Indonesia.
Chinese have overtaken Australians as the top visitors to Bali, representing a quarter of arrivals on the island.
Losses in revenue could be more than $650 million since the volcano warning level was first raised in September, Indonesian Tourism Minister Arif Yahya estimated.
Agung looms over eastern Bali to a height of just over 3,000 meters. Its last major eruption in 1963 killed more than 1,000 people and razed several villages.
Authorities are urging people living up to 10 km from the summit to move to emergency centers, but tens of thousands don't want to leave their homes and livestock unattended.
Reuters contributed to this story.
luowangshu@chinadaily.com.cn