London Stock Exchange chief quits with multi-mln dollar golden goodbye
LONDON - The chief executive of the London Stock Exchange (LSE) quit his job on Wednesday, taking with him a multi-million pound send-off.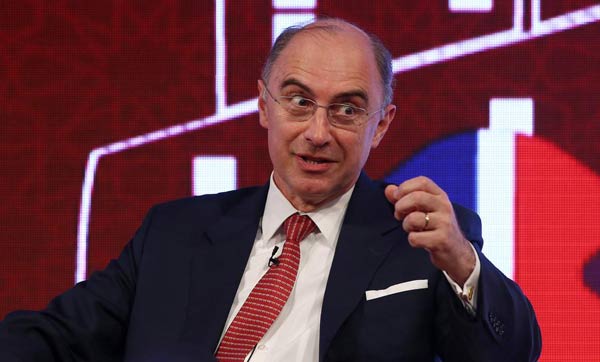 CEO of the London Stock Exchange Xavier Rolet at the Qatar UK Business and Investment Forum in London, Britain March 27, 2017. [Photo/Agencies]
Xavier Rolet, aged 57, quit his role as boss of one of the world's largest stock exchanges after a month of public rows and is set to get 13 million pounds (17.45 million US dollars), including full salary for a year of "gardening leave".
Rolet stepped down at the request of the LSE's board, and will be replaced by the LSE's chief financial officer, David Warren.
An LSE spokeswoman told Xinhua on Wednesday afternoon: "David Warren is going to be the interim CEO while we look for a new successor."
Rolet said in a statement on Wednesday morning that there had been "a great deal of unwelcome publicity, which has not been helpful to the company".
"I will not be returning to the office of chief executive or director under any circumstances. I am proud of what we have achieved during the past eight-and-a-half years."
Rolet's decision to leave follows a public dispute over his future at LSE, which is the world's third largest stock exchange with a market capitalization of more than 6 trillion U.S. dollars.
Last month the LSE board started the process of finding a replacement for Rolet, who was due to step down by the end of December 2018.
This sparked a protest from some LSE shareholders, led by The Children's Investment Master Fund, which wanted to keep Rolet in his role, but get rid of LSE chairman Donald Brydon.
The row drew in Bank of England Governor Mark Carney, who on Tuesday said there needed to be a resolution.
Rolet had been in charge of the LSE since 2009, and had increased its value from 800 million pounds to 14 billion pounds.
Brydon has said he will step down in 2019.
LSE said in a statement: "The board believes that at that point it would be in shareholders' interests to have a new team at the helm to steer the future progress of the company."
LSE and Rolet had met disappointment in March this year when a planned deal to merge with Deutsche Borse was vetoed by the European Union (EU), in part as a result of the uncertainty over the Brexit process.
Rolet will be on permanent leave until his formal departure from the LSE in December next year and will be on full salary. (1 pound = 1.34 US dollars)