Tight-lipped May fails to halt speculation over 50-bln-euro Brexit deal
LONDON - British Prime Minister Theresa May and her senior ministers remained tight-lipped Wednesday over the amount Britain will have to pay to leave the European Union (EU).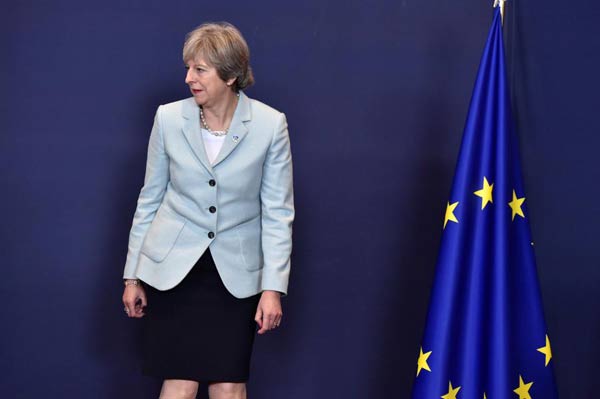 Britain's Prime Minister Theresa May pose for a family picture during the Eastern Partnership summit at the European Council Headquarters in Brussels, Belgium, November 24, 2017. [Photo/Agencies]
Virtually every media outlet in London is reporting that the figure will be around 50 billion euros (59.3 billion US dollars), a sum that neither 10 Downing Street nor the official Brexit office denied.
Leading commentators in London are convinced a deal in the order of 50 billion euros has been offered by London, and welcomed by Brussels, as a way of paving the way for post-Brexit trade talks.
Questioned Wednesday afternoon in the House of Commons, Treasury minister Liz Truss declined to comment on what she described as media speculation. Truss insisted any financial settlement was contingent on Britain getting the right overall outcome.
She told MPs that Britain would meet its commitments and get a good deal for the British taxpayer.
Earlier veteran Conservative and former front-bench minister Ken Clarke, asked Theresa May's deputy, Damian Green to welcome reports that the Brexit bill has being settled by the EU and Britain.
Green, standing in for May at the weekly Prime Minister's Questions, responded by saying Clarke "had been around long enough to know not necessarily to believe everything he reads".
He then added: "But he's absolutely right in that what we are about is making sure we get the best possible deal at this stage and Britain as a country that meets it international obligations."
British negotiators are eager to see progress on Brexit made ahead of crucial "make or break" decisions early December at a meeting of EU member state leaders. What they agree will determine when future trading relations will move to the next stage for discussion.
One politician unhappy with the prospect of a bumper check heading to Brussels was Nigel Farage, founder of Britain's anti-EU UKIP party.
On his social media site, Farage said: "Even if the UK was guaranteed tariff-free access to the single market, it's not worth 50 billion euros. Christmas has come early for the EU."
Vince Cable, leader of the minority Liberal Democrat party, said: "If these numbers are correct, it means we're paying a heavy price to leave an institution that has benefited the country for decades.
"The true cost of Brexit is becoming clearer by the day. This underlines why people should have a referendum on the final deal, with the option of an exit from Brexit."
In a radio interview Wednesday former Conservative leader and leave-supporter Iain Duncan Smith described a likely deal as a bargain for Britain, saying the country would save "a staggering amount of money".
With payments spread over many years, said Duncan Smith, the divorce bill would represent a small percentage compared to what Britain would have paid over 40 years to stay as a member.
A Department for Exiting the European Union spokesperson said: "Intensive talks between the UK and the European Commission continue to take place in Brussels this week as we seek to reach an agreement.
"We are exploring how we can continue to build on recent momentum in the talks so that together we can move the negotiations on to the next phase and discuss our future partnership."