Harry, Meghan to have May wedding at Windsor Castle
LONDON - The wedding of Britain's Prince Harry and his fiancee Meghan Markle will take place in May in St George's Chapel at Windsor Castle, a venue with royal associations going back centuries.
The fifth-in-line to the British throne, 33, and the US actress, 36, previously best known for her starring role in the TV legal drama Suits announced their engagement on Monday, sparking a trans-Atlantic media frenzy.
The couple have chosen to marry in Windsor, west of London, because it is "a special place for them", Harry's spokesman told reporters. Queen Elizabeth, the prince's 91-year-old grandmother, will attend the ceremony.
"The wedding will be a moment of fun and joy and reflect the characters of the bride and groom," he said.
The couple's first official engagement together will take place on Friday in the central English city of Nottingham, where they will raise awareness of charities working to prevent HIV/AIDS and youth crime.
"Prince Harry has spent a significant amount of private and public time in (Nottingham) and His Royal Highness is looking forward to introducing Ms. Markle to a community that has become very special to him," said Kensington Palace, Harry's official residence.
Markle, who attended a Catholic school as a child but identifies as a Protestant, will be baptized and confirmed into the Church of England before the wedding, Harry's spokesman said.
She intends to become a British citizen, though she will retain her US citizenship while she goes through the process.
"Miss Markle will be compliant with all immigration requirements at all times," the spokesman said.
The Gothic St George's Chapel is located in the grounds of Windsor Castle, which has been the family home of British kings and queens for almost 1,000 years.
Within the chapel are the tombs of 10 sovereigns, including Henry VIII and his third wife Jane Seymour, and Charles I.
In more recent memory, it was the venue of the wedding of Harry's uncle Prince Edward to Sophie Rhys-Jones in 1999, and of a service of prayer and dedication to mark the wedding of Harry's father, Prince Charles, to Camilla Parker Bowles in 2005.
A busy 2018
The year 2018 looks likely to be a busy one for the British royal family, with Harry's older brother Prince William and his wife Catherine, known as Kate, expecting their third child in April.
Earlier on Tuesday, Kate said she and William were "absolutely thrilled" about Harry's engagement.
Harry's stepmother Camilla, now known as the Duchess of Cornwall, was equally enthusiastic.
"America's loss is our gain," she said of Markle.
Prince Harry and Markle's engagement represents something genuinely different from everything that has gone before, the Guardian newspaper said on Tuesday.
"Their marriage will bring into reality what the British establishment lacked the imagination to conceive of as possible 17 years ago - that a senior royal can love, marry, someone whose ethnic heritage is not just different to his, but the heritage that has always been most othered in Britain - black and African," said the major British newspaper.
Reuters - Ap - Xinhua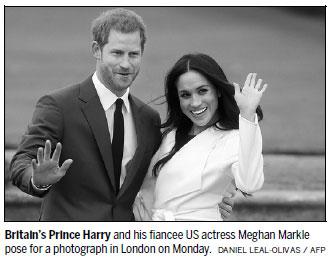 (China Daily 11/30/2017 page11)