UK's Prince Harry to marry US actress
The United Kingdom will witness another royal wedding next year after the Prince of Wales announced on Monday the engagement of his son, Prince Harry, to the US actress Meghan Markle.
The engagement statement said that details about the wedding will be announced at a later date but it will take place in London and be the subject of intense international attention.
The statement issued from Prince Charles's residence, Clarence House, said that the couple had become engaged earlier this month. Prince Harry has informed the Queen and sought and received the blessing of the Markle family.
The statement said that the wedding would take place next spring. The couple will live in Nottingham Cottage at Kensington Palace in London after they are married.
In the past members of the royal family had arranged marriages to someone from a similar background, normally from another European royal family to whom they were distantly related. Prince Harry, like his brother Prince William, will marry someone from a nonaristocratic background.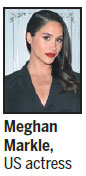 Prince William met his wife Catherine Middleton when they were students at St Andrews University in Scotland. They married to become the Duke and Duchess of Cambridge.
Prince William is second-in-line to the throne while Prince Harry is now fifth-in-line after being displaced by his nephew and niece. He will become sixth-in-line to the throne when his brother has his third child next year. There have been days of speculation about the engagement between Harry, a former military helicopter pilot, and Markle, an actor whose best-known role was in the US drama series Suits.
It is not clear how Prince Harry, 33, and Markle, 36, met but they have been photographed at a series of social occasions.
Earlier this year, Markle spoke for the first time about her relationship with Harry: "We're two people who are really happy and in love. We were very quietly dating for about six months before it became news, and I was working during that whole time, and the only thing that changed was people's perception," she told Vanity Fair.
In a statement issued by Kensington Palace, Markle's parents said they were incredibly happy for the couple. "Our daughter has always been a kind and loyal person. To see her union with Harry, who shares the same qualities, is a source of great joy for us."
The Duke and Duchess of Cambridge also expressed their congratulations.
"We are very excited for Harry and Meghan. It has been wonderful getting to know Meghan and to see how happy she and Harry are together," they said in a statement.
conal@mail.chinadailyuk.com
(China Daily 11/28/2017 page12)