Beatle's stolen diaries, glasses recovered from auction house
BERLIN - Diaries, prescription glasses and a cigarette case are among some 100 items belonging to John Lennon that have been recovered in Berlin after they were allegedly stolen by Yoko Ono's driver last year, German officials said on Tuesday.
The suspect, Koral Karsan, lives in Turkey and is currently out of reach of German law enforcement, police said as they presented the late Beatle's rediscovered personal effects at a news conference.
The former chauffeur worked for Ono from 1995 to 2006. He already spent 60 days in jail in 2007 in the United States for trying to blackmail Lennon's widow Ono.
"We believe (he) is guilty and the suspected thief of the objects," Carsten Pfohl of Berlin's criminal police office told reporters.
The possessions were stolen from Ono's New York home in 2006.
A total of 86 items - including postcards, letters, handwritten music scores and two pairs of Lennon's trademark round glasses - were discovered at a bankrupt Berlin auction house in July.
More items were found hidden in the car of another suspect in the case, a 58-year-old German national who was arrested on Monday on suspicion of fraud and handling stolen goods.
One of the three diaries from the haul contains an entry penned by Lennon on Dec 8, 1980 - the day he was shot dead by a disturbed fan outside his Manhattan apartment building.
"We were amazed by what we found," said Berlin prosecutor Michael von Hagen, calling the trove part of "music history".
Hagen rejected suggestions that Ono might have lent or given away the objects: "The diaries especially ... were also treated by Yoko Ono as something sacred. And the idea that she would have given away three original diaries, especially the one that ends on the very day Lennon died, can be completely ruled out."
Lennon's possessions have become collectors' items.
A leather jacket supposedly worn by the musician sold for 10,400 pounds ($13,800) at an auction in England in February.
Reuters - Afp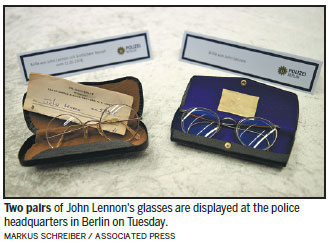 (China Daily 11/23/2017 page10)