Leading actor says Hong Kong movie industry is strong but can be better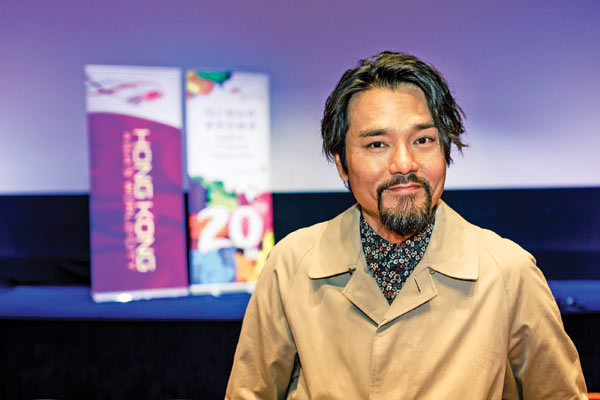 Gordon Lam Ka-tung wants more innovation in the Hong Kong film industry. [Photo/China Daily]
Hong Kong actor Gordon Lam Ka-tung has gone from playing bit parts to becoming one of the special administrative region's most popular actors.
The award-winning movie star and producer was in London on the weekend to promote a festival dedicated to the achievements of the Hong Kong film industry during the past 20 years.
Creative Visions: Hong Kong Cinema 1997-2017 screened the European premier of Paradox, which stars Lam.
Other films on show at the festival included works by new filmmakers, among them Mad World directed by Wong Chun.
"The film industry in Hong Kong is going strong, despite some people believing that the quality of movies has dropped in the past few years," Lam said. "In the future, it can go much further with new filmmakers making movies such as Mad World and The Sinking City: Capsule Odyssey."
Lam emphasized the importance of creating original films that have a human connection, something he believes can be missing at times in Hong Kong cinema.
"Rather than producing the same genre of films, for example a constant production of action films, we should try new things with new content and genres, and find new faces for the big screen," he said.
After being in the industry for some 30 years, he took the top actor prize for action crime thriller Trivisa at the 36th Hong Kong Film Awards earlier this year.
The 50-year-old started his career at TVB, a commercial television station in Hong Kong, where he became a star, He then left the network to try to make it in film.
Lam went on to have supporting roles in films including Infernal Affairs and Ip Man.
"I wouldn't say that it was a long-time coming," Lam said on the subject of his best-actor award. "I don't do what I do to win awards. What I have passion for is acting and for the roles and characters I play and relating to the audience through all this."
As well as acting, Lam produces films and marked his debut as a producer with the 2010 film Gallants, which won the Best Film award at the 30th Hong Kong Film Awards.
He said he went into producing because he was concerned about the lack of new talent in the industry.
"I think about how the big stars of today get to where they are; it's because someone gave them a chance," Lam said. "Most production companies use the same couple of actors all the time, but I want to change this and I want to give new actors, directors, and filmmakers the chance to break into the industry."
Lam's main aims are to create movies that audiences can relate to and that make people think, as well as to "produce films with an audiences' point of view in mind".
"If I can't evoke some feelings or thoughts from an audience, what is the point in making the film?" he said. "I have the opportunity to try new things and be more adventurous."