Stamps to commemorate UK Queen's wedding anniversary go on sale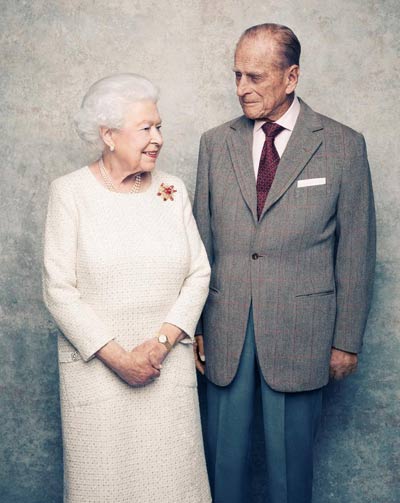 A handout photo shows Britain's Queen Elizabeth and Prince Philip in the White Drawing Room at Windsor Castle in early November, pictured against a platinum-textured backdrop, in celebration of their platinum wedding anniversary on November 20, 2017. [Photo/Xinhua]
LONDON - A set of postage stamps to commemorate the 70th wedding anniversary of Queen Elizabeth and Prince Philip will go on sale across Britain on Monday, Royal Mail has announced.

Each of the stamps features photographs of the wedding in 1947 of the then heir to the British throne which took place at Westminster Abbey. They also feature the couple's engagement and their honeymoon.

The set of stamps have been approved by Buckingham Palace, Royal Mail said.

The wedding was the first Royal event following the end of World War II, with huge crowds flocking to St James's Palace to view an exhibition of some of the couple's 2,500 wedding gifts.

Princess Elizabeth, as she was then titled, wore a dress was designed by one of Britain's fashion icons, Norman Hartnell. It was made of ivory silk, decorated with crystals and 10,000 seed pearls and had a train almost five meters in length.

In the days before television was available to the masses, more than 200 million listeners worldwide followed the service by radio. For the first time, newsreel cameras were allowed to film part of the proceedings for screenings in cinemas.

Royal Mail spokesperson, Philip Parker, said, "A platinum wedding anniversary is rare, and for the Royal Family it is unique. We are delighted to issue these six stamps to mark Her Majesty's and the Duke of Edinburgh's 70 years of marriage."

Buckingham Palace has confirmed that the Queen and Prince Philip will mark their 70th wedding anniversary privately, with a family dinner at Windsor Castle on Monday evening.

From 1 p.m. local time on Monday, the bells of Westminster Abbey will ring to mark the anniversary. The Queen and the Duke of Edinburgh are the longest married British royal couple in history.

The Duke has retired from official duties in the autumn this year, while the Queen has already become the longest-reigning monarch in the British history at 65 years, and the longest-lived at 91.