Melania Trump tweets of China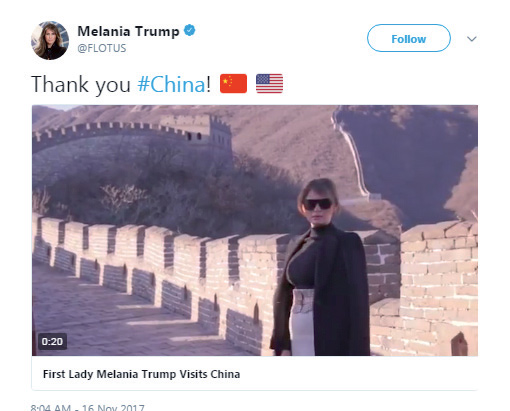 US first lady Melania Trump posted a video clip on her Twitter on Thursday afternoon titled "Thank you #China", followed by national flags of China and the United States.
The one-minute video shows many memorable moments she and her husband, President Donald Trump, had during their Nov 8-10 state visitto China, such as the warm reception they received; attending cultural performances; her interaction with Chinese students, visiting the Great Wall and a zoo to see the giant panda, all accompanied by China's first lady Peng Liyuan.
The posting quickly drew many comments by Mrs. Trump's followers, with words such as "Thank you, China for your graciousness to our lovely First Lady," by Julie Jam;
"Beautiful country with beautiful people. Thank you for sharing," by Randi;
"1st Lady, I am happy you had a nice time in China," by Greco Babeo;
"China was very welcoming, for our FLOTUS!" by Dee KC; and "Thank God. Thank President Xi, Thank China," by Phyllis Bennett.