Security Council fails to adopt US-drafted resolution on chemical attacks probe in Syria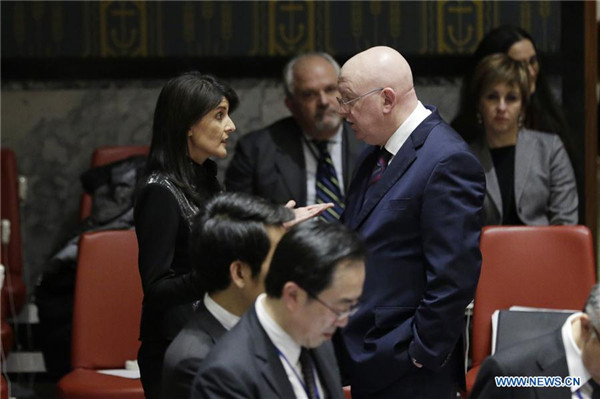 US Ambassador to the United Nations Nikki Haley (L, center) speaks to Russian Ambassador to the United Nations Vassily Nebenzia (R, center) before a UN Security Council meeting to vote on a US-drafted resolution on extending mandate of mechanism investigating chemical attacks in Syria at the UN headquarters in New York, on Nov 16, 2017. The draft text of the United States addressing the renewal of the mandate of the Joint Investigative Mechanism (JIM) of the Organization for the Prohibition of Chemical Weapons and the UN investigating chemical attacks in Syria failed to be adopted by the Security Council Thursday. [Photo/Xinhua]
UNITED NATIONS - The draft text of the United States addressing the renewal of the mandate of the Joint Investigative Mechanism (JIM) of the Organization for the Prohibition of Chemical Weapons (OPCW) and the UN investigating chemical attacks in Syria, failed to be adopted by the UN Security Council Thursday.
The resolution received 11 votes in favor and two against, with two abstentions. But because one of the votes against it was from Russia, a permanent council member, the resolution failed to pass. China abstained from voting on the resolution.
The Security Council had planned to put on vote two draft resolutions, each of which would renew the mandate of the JIM, which ends on November 17. Russia withdrew its draft resolution before the vote began, citing procedure reasons.
"China is firmly opposed to the use of chemical weapons by whichever country, organization or person for whatever purposes and under whatever circumstances," said Wu Haitao, China's deputy permanent representative to the United Nations.
He said "we have always maintained that the JIM should carry out comprehensive, objective and impartial investigations into chemical attacks in Syria."
"Base this work on solid evidence and draw conclusions that can stand the test of time and reality. Only by doing so can the perpetrators of chemical weapon attacks in Syria and those accountable be brought to justice and can the Syrian people be freed from the suffering caused by chemical weapon attacks," Wu added.
There had been a great deal of activity around the renewal of the JIM and its final report in the last few weeks. The United States put to a resolution to vote to renew the JIM with the same mandate for an additional year on October 24, two days before the release of the JIM's final report. Russia vetoed the resolution, arguing a need to evaluate the effectiveness of the JIM by assessing the final report before discussing its renewal.
On November 2, Russia and the United States circulated competing drafts renewing the JIM's mandate. On November 7, Edmond Mulet, head of the JIM's leadership panel, briefed the council on its final report. During the briefing, the existing divisions in the council were on full display. Russia criticised the JIM for falling short of the standards of the Chemical Weapons Convention.