Peace urged for Zimbabwe amid crisis
HARARE, Zimbabwe - Calm and peace have been urged for the country where the military announced on Wednesday that it has taken control of all government institutions.
Zimbabwe's 93-year-old President Robert Mugabe and his wife have since early Wednesday been reportedly put under house arrest. Military leaders said on state TV that they were not taking over the government, but "targeting criminals around" Mugabe, and that Mugabe and his family are safe and their security is guaranteed.
Armored carriers cordoned off the presidential seat of power and the parliament building in the capital, and unconfirmed reports said a number of ministers and some top officials of the ruling ZANU-PF party were arrested.
Political analysts stressed the military's continued respect for Mugabe and his role in Zimbabwe's revolution that won it independence from Britain in 1980 can likely lead to a peaceful settlement. The unfolding situation in Zimbabwe poses serious political uncertainty that may impact on the region, raising widespread concerns.
Countries and regional blocs are closely watching the situation.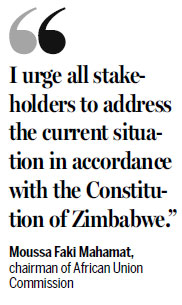 The Southern African Development Community has repeated the call for calm, restraint and peace in Zimbabwe, and called an urgent foreign ministers meeting to be held on Thursday to discuss the situation there.
In a statement, Moussa Faki Mahamat, chairman of African Union Commission, said: "I urged all stakeholders to address the current situation in accordance with the Constitution of Zimbabwe."
Special envoys
South African President Jacob Zuma has called for a peaceful solution. Zuma, in his capacity as the SADC chair, also said he was sending special envoys to meet with Mugabe and Zimbabwe's military leaders.
"We are monitoring this situation very closely," British Foreign Secretary Boris Johnson said on Wednesday.
"At the moment it's very fluid and it's hard to say exactly how this will turn out. Everybody wants to see a stable and successful Zimbabwe. We are appealing for everyone to refrain from violence," he said.
China's Foreign Ministry said China hopes Zimbabwe's relevant parties can properly handle the internal affairs, noting that maintaining peace, stability and development in Zimbabwe conforms to the fundamental interests of the country and its neighboring regions, and is also the common aspiration of the international community.
In a statement, Nigerian President Muhammadu Buhari also appealed for calm, peace and respect for the Constitution in Zimbabwe.
Namibia voiced concerns about the political uncertainty in Zimbabwe.
"As neighbors, member states of SADC and the African Union, Namibia and Zimbabwe share a common destiny and common aspirations for peace, economic prosperity and democracy for our countries and people," Namibian Deputy Prime Minister and Minister of International Relations Netumbo Nandi-Ndaitwah said in a statement.
Zambian President Edgar Lungu, currently on a state visit to Egypt, said in a statement released by his spokesperson: "I have encouraged all parties in Zimbabwe to work toward a quick and peaceful resolution to the impasse and to uphold human rights."
Embassies of countries including the United States, Britain, the Netherlands, Spain, and Canada have advised citizens to take precautions due to the military activities and intense situation in Harare.
Tanaka Aggrey Chitsa, a political analyst based in Harare, said the situation in Zimbabwe is still unpredictable. Since Mugabe is still the head of state and commander in chief of the military, he said, adding that the unraveling of the situation over the next few days should be closely watched.
Dr David Monyae, a policy analyst at the University of Johannesburg, said he believes that investments of Chinese and other foreign interests in Zimbabwe won't be threatened by the military.
Xinhua - China Daily
(China Daily 11/17/2017 page11)