Chinese heroes get Belgium statue
140,000 such laborers were recruited to perform support work during WWI
On the night of Nov 15, one hundred years ago, German troops violently bombed Poperinge, a city not far away from the Great War front-line. Thirteen Chinese, among 20,000 laborers working in Belgium, were killed in the attack.
They were among 3,000 Chinese victims of airstrikes near the battlefields of World War I.
On Wednesday afternoon, the first ever Belgian monument to the Chinese laborers, consisting of three bronze statures of them digging trenches, carrying shells and evacuating wounded soldiers, was unveiled in a village two kilometers away from Poperinge.
Wreaths were laid in front of the statue by mayor of Poperinge Christof Dejaegher, Chinese Ambassador to Belgium Qu Xing and British Ambassador Alison Rose, among other Chinese and Belgian dignitaries.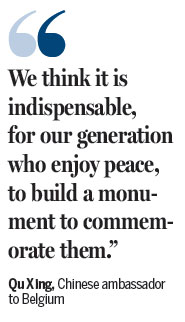 Hundreds of veterans wearing poppy flower brooches, villagers, overseas Chinese and schoolchildren also braved the rain to witness the historic moment.
From 1916, more than 140,000 Chinese people, aged 20 to 35, were recruited by the United Kingdom and France to perform support work for their military forces on the western front, where they labored in the rear echelons or helped build munitions depots.
About 20,000 were sent to the Belgium front-lines.
Qu said the Chinese laborers made an unforgettable contribution to the success of the Allied Forces.
"We can easily imagine, with a labor corps of 140,000 laborers-solders, if one laborer digs only one meter of trench a day, there will be a front of trenches as long as 140 kilometers," Qu said in an emotional speech to the crowd.
"If one person carries only one shell a day, it will be 140,000 shells poured over enemies every day. We can also imagine the number of wounded soldiers whose lives were saved by prompt evacuation from the battlefields."
He said that about 20,000 laborers never returned to China, with 3,000 dying in German submarine attacks and because of illness and about 10,000 killed in the 1918 Flu Pandemic.
"We think it is indispensable, for our generation who enjoy peace, to build a monument to commemorate them, about 20,000 Chinese laborers-as-soldiers who devoted their lives to come to a place they had never been, and to help people they had never met," he said.
Yan Shufeng, a Chinese-Belgian sculptor who has been working with her assistants for nearly one year to present the sculptures, said: "I am very delighted to contribute to make this period of both humiliating and honorable history alive through our efforts."
Rose said the Chinese corps members all worked in harsh conditions, very close to the battlefield and under constant risk of bombing.
With thousands of them got killed during the war, Rose said 86 of them found their final resting place at British military cemeteries in Belgium. Most of the tombs are in Lijssenhoek cemetery just outside Poperinge.
"I have been with the school trips as they have visited the Chinese Labour Corps graves, so I know that they are remembered," Rose said.
Rose also cited one of the epitaphs on the gravestones for the Chinese laborer member at Commonwealth War Cemeteries as saying: "A good reputation endures forever."
Xinhua contributed to this story.
fujing@chinadaily.com.cn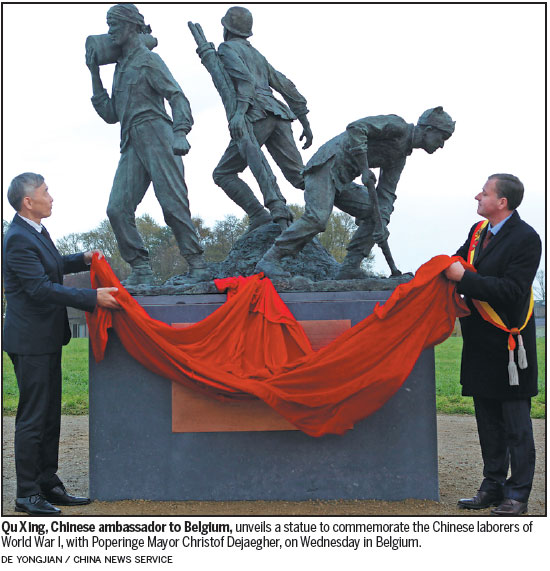 (China Daily 11/17/2017 page10)