UK school offers early start to learning Mandarin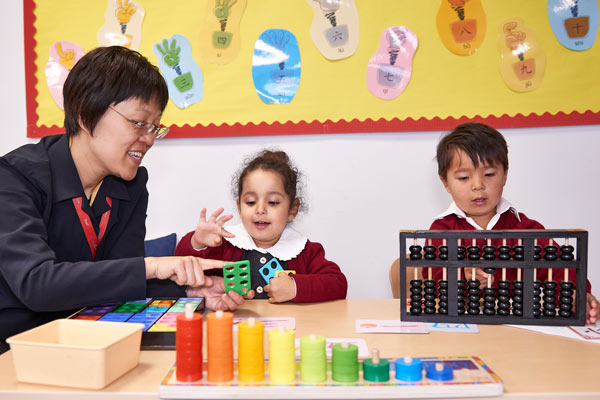 A Chinese teacher is giving a Mandarin lesson to pupils at Kensington Wade in West London. [Photo provided to chinadaily.com.cn]
In a bright new classroom on the second floor of a West London building, Christie counts to 10 confidently and then identifies parts of the body when prompted by her teacher. Not bad for a 3-year-old, but Christie is carrying out the tasks in Mandarin.
She didn't speak a word of Chinese until eight weeks ago, when her parents enrolled her at Kensington Wade in London, the first prep school in the UK to offer English and Chinese education to pupils aged 3 to 11.
Jo Wallace, the headmistress, said she hopes her students will be able to live and work comfortably with Chinese people.
"What we aim to give our students is not only just a bilingual brain but also the ability to speak Chinese and understand Chinese culture," she said.
The school opened in September, with 16 pupils, half of whom are from families from the UK, the US, Russia, South America and elsewhere in Europe. Half of the class comprises children with some kind of Chinese background.
"The common factor with all these families is that most of them are international and have an international understanding about China," Wallace said. "Most of them speak two languages and they know the importance of being bilingual and how great it is."
The school charges fees of 17,000 pounds ($22,435) a year and aims to blend the rigor and efficiency of the Chinese teaching style with the creativity and imagination of the British system. Pupils move between an English and a Mandarin classroom throughout the day.
Kensington Wade was the brainchild of Hugo de Burgh, a Chinese media specialist, who named the school after Sir Thomas Wade, a 19th century diplomat who wrote the first Chinese-English textbook, which was published in the 1860s.
De Burgh said: "The desire to open a school of this kind has been founded on the belief that future generations of British opinion formers and decision makers will benefit greatly from learning Chinese at an early age."
He said being able to speak the language will give them an edge because China has become influential.
"China now is the biggest trading partner for 124 countries, while the United States is the biggest trading partner for 58 countries, and parents see the growing influence of China economically and culturally," he said.
Michael Pritchett, the father of 3-year-old Kasper, said being bilingual expands the learning capacity of the brain and studying Mandarin, the most spoken language in the world could open up all sorts of possibilities for further cultural study, secondary school, and university.
Pritchett said he was delighted when his son started talking to a waitress in Chinatown in Chinese, and he likes to hear his son singing in Chinese while playing with toys.
"The immersion thing is obviously kept up at home," he said.
The Pritchett family chose Kensington Wade so their son could learn a second language but Stephanie Tsang, another parent, decided to send her son Harry to the school because of his Chinese roots.
Tsang's family just moved back to London from Beijing, and she said that, while China is perceived as the future by many people, she also wants it to be the present.
"We want to have it as a now thing, because I want him to understand Chinese, and be able to talk to his grandma and grandpa," she said.
For parents who want their children to learn Mandarin even earlier, there is Hatching Dragons, the UK's first Chinese-English nursery school in central London. Its founder, Cennydd John, set up the nursery because he wanted his son to learn the language.
John said he hopes to get children to break down prejudices and understand that there is much more that joins them than divides them. He read modern Chinese studies at the University of Edinburgh and went on to work as a China consultant.
"I want to help children be globally confident and capable in a changing world," he said, "We cannot deny the fact that there are 1.37 billion people in China who will be globally integrating in some way."
John's concept seems to be working. This year, he launched a second nursery, in Southwest London's Twickenham, two years after the Barbican branch opened. He is planning to open a third nursery, in Westminster, next year.
The interest in learning Mandarin in the UK aligns with UK government policy. In 2015, the government launched its 10 million pound Mandarin Excellence Program, which aims to get 5,000 students on the way to fluency of the language by 2020.
Nick Gibb, minister of state for school standards, said: "A high level of fluency in Mandarin will become increasingly important in our globally competitive economy."
Zhang Yangfei contributed to this story