Royal Mint rolling out coin marking Year of the Dog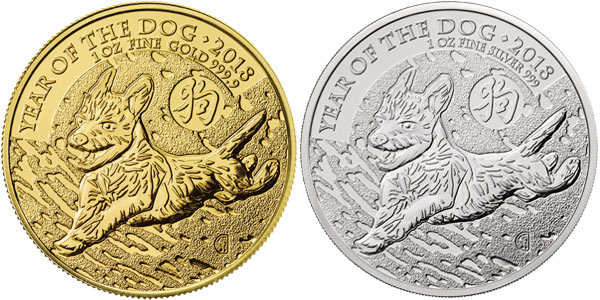 The gold and silver commemorative coins launched by UK's Royal Mint to celebrate lunar Chinese New Year of the Dog. [Photo provided to chinadaily.com.cn]
The United Kingdom's Royal Mint has launched its latest commemorative coin celebrating lunar Chinese New Year.
To mark the Year of the Dog, Britain's official coin manufacturer has created a coin that features a terrier crossbreed. It is the latest coin in the Chinese zodiac collection and follows the success of coins commemorating the Horse in 2014, the Sheep in 2015, the Monkey the following year, and 2017's Rooster. The coins have sold well worldwide.
Chris Howard, Royal Mint's director of bullion, said: "The Royal Mint enjoyed success for sales of both the Monkey and Rooster bullion coins, so, naturally, we have high expectations for our Lunar Year of the Dog bullion offering."
The coin, like the one before it, was designed by Wuon-Gean Ho, a British-Chinese artist and printmaker who uses her Chinese and British heritage and her experience as a veterinary surgeon to create the designs.
"The dog I have depicted is a mixed-breed, a West Highland White Terrier crossed with a Jack Russell," she said. "I wanted to show the energy and exuberance of a compact dog; bouncy, full of life and very playful. Terriers have intelligence, loyalty and big personalities."
The Chinese character for "Dog" is also shown next to the image of the animal and the number eight, believed to be lucky in Chinese culture, is incorporated into each coin.
The Royal Mint said the collection is a celebration of the UK's multi-cultural society and lends a unique British angle to the ancient custom. Combining centuries of Chinese tradition with British minting craftsmanship, the collection celebrates the 12 animals of the Chinese zodiac and their distinctive characteristics and qualities, according to Royal Mint.
The legal-tender Dog coin is minted in both 24 carat gold and fine silver. The other side of the coin displays a portrait of Queen Elizabeth II that was designed by Jody Clark. The gold coin will cost 1,045 pounds ($1,380) and the silver coin will cost 21 pounds.
Each lunar year is linked to one of 12 animals, whose traits are attributed to those born during that year. The Year of the Dog starts on Feb 16.
Those born in the Year of the Dog are said to be loyal, honest, friendly, smart and have a strong sense of responsibility.