Giant diamond sells for $34m
GENEVA - The largest D-flawless diamond to be put up for auction, mounted in a diamond and emerald necklace, sold for $33.7 million on Tuesday, including buyer's fees.
The white, matchbox-size "Creation 1" diamond from Swiss jeweler de Grisogono weighs a whopping 163.41 carats.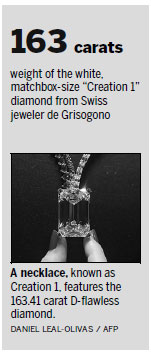 D is the highest color grade attributed to a diamond, indicating that the stone is completely colorless, and thus extremely rare.
The hammer went down at 29.5 million Swiss francs ($29.7 million), excluding the buyer's premium - around the midpoint of the pre-sale estimates before the auction at Christie's in Geneva.
The buyer was not immediately identified.
Australian diamond company Lucapa, which mined the stone originally measuring more than 7 centimeters in length, said it was the largest diamond so far discovered in the African nation of Angola. The rough stone that it was cut from weighed 404 carats.
A team from de Grisogono then created 50 different designs around the 163.41-carat diamond, before opting for an asymmetric necklace with the stone as its centerpiece.
Some had expected the diamond to fetch even more.
"I am disappointed that the Art of de Grisogono didn't sell for a more dazzling price," said Tobias Kormind, head of 77 Diamonds, a large European online diamond jeweler, who had said before the sale he thought the price might top $50 million.
Also on the block was "Le Grand Mazarin", a 19-carat pink diamond that once belonged to King Louis XIV, Napoleon Bonaparte and other French rulers.
It sold for a hammer price of 12.5 million Swiss francs, obliterating the pre-sale estimate.
Le Grand Mazarin was up for auction for the first time in 130 years, during a sell-off of French crown jewels. Originally from the Golconda mines in India, the stone was set in the crowns of almost all kings and emperors of France since the early 18th century, Christie's said.
Ap - Afp
(China Daily 11/16/2017 page11)