Turkey closer to its own space agency
Ankara aims to reduce dependence on foreign technology in the future
ANKARA - As a regional player, Turkey has set its sights on space. An ambitious program will constitute the backbone of a special agency which should be launched next year to determine policies and strategies in space and aviation technologies.
A draft bill to this effect penned by the ruling Justice and Development Party, or AKP, was approved last week by a Parliamentary subcommittee and should be voted on early next year at a plenary session, parliamentary sources said.
The bill, which is expected to pass with the consent of the opposition in the fragmented Parliament, defines the mission of this first Turkish Space Agency as primarily reducing dependence on foreign technology, coordination work for space programs and to develop and launch aerospace systems.
The agency will reportedly combine the experience of similar institutions in the United States (NASA), Germany, France and Japan, according to the bill.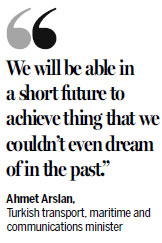 Turkey's efforts in space programs, essentially on launching and integrating satellites, has experienced problems these last years. Now Ankara is more than ever determined to step up its ambitions.
"We signed a protocol of cooperation with Japan in order to launch our own national space agency. This way we will be able to consolidate our efforts in the fields of satellites and space technologies," said Turkish Transport, Maritime and Communications Minister Ahmet Arslan during an international symposium in Istanbul on the weekend.
In September, Turkey and Japan signed a deal regarding satellite and space technologies. Under the deal, they will build an infrastructure of space technologies in Turkey over a span of six years. UBAKUSAT will be launched from Japan next year, and Japan will help train experts in space technologies and will also assist in establishing the Turkish Space Agency.
"This is a sign that Turkey's dreams are becoming reality," said the minister. "We will be able in a short time to achieve the thing that we couldn't even dream of in the past."
Turkey wants to increase its number of satellites to a total of 10 in 2023, in order to be able to operate and have direct communications links with some 90 percent of the world population through its own satellites.
Indigenous satellite
Turkey launched its first satellite in 1994, followed by two others in 1996 and 2001 supported by the European consortium Airbus facilities.
Since 2012, three other military and observation satellites have been launched, bringing the actual number of Turkish satellites in the earth's orbit to six.
Turkey aims to build its first fully indigenous satellite by 2019. Last week Ankara hosted SpaceX CEO Elon Musk who met President Recep Tayyip Erdogan to discuss cooperation between his companies and Turkish firms, including the launch of Turkish satellites.
Turkey hopes to launch satellites Turksat 5A and Turksat 5B in 2020 and 2021 with the support of Musk's SpaceX.
Metin Gurcan, a leading Turkish security expert, indicated that the lack of a national space agency is "a key institutional deficiency" and is hampering the country's efforts to assert fully its power in the region.
Xinhua
(China Daily 11/16/2017 page11)