Next ambassador to EU warmly welcomed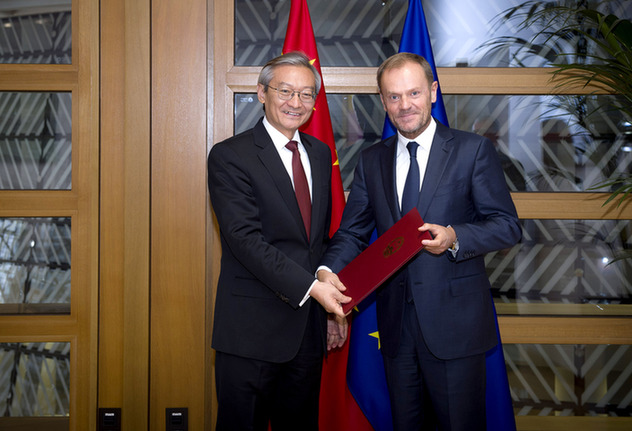 Zhang Ming, China's new ambassador to the EU, submitted his national credentials to European Council President Donald Tusk on Wednesday in Brussels. (Provided to China Daily)
European Council President Donald Tusk has spoken highly of the 19th National Congress of the Communist Party of China, saying it will have a "far-reaching impact" on both China and the world.
Tusk made the remarks on Wednesday in Brussels when he received the credentials of Zhang Ming, the head of China's Mission to the European Union. Zhang succeeded Yang Yanyi in the post one month ago.
According to a news release from China's EU mission, Tusk said China has sent a "clear and important" message from the Party Congress that the country will maintain longtime stability and predictability, which are crucial for both China and the world.
The once-every-five-years congress wrapped up last month, and China outlined its economic and social development road map to 2050 while announcing that socialism with Chinese characteristics has entered a new era.
In welcoming Zhang, who had been deputy foreign minister, to his new position, Tusk said China ranks high on the EU's diplomatic chessboard. He said he treasured the "personal and work" relationship that he has with President Xi Jinping and Premier Li Keqiang.
Tusk said he believes that the bilateral relationship between China and EU will be upgraded to a new level through joint efforts.
Zhang, who attended the Party Congress in Beijing last month, explained the outcomes to Tusk.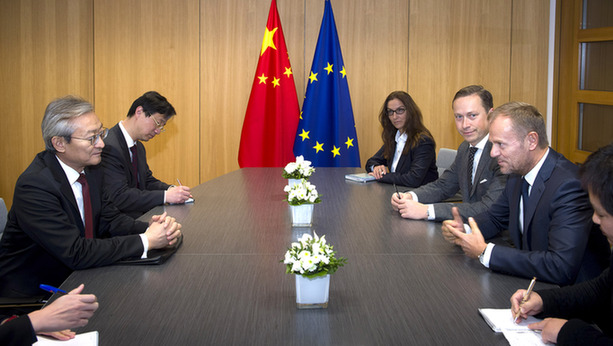 Zhang Ming, China's new ambassador to the EU, submitted his national credentials to European Council President Donald Tusk on Wednesday in Brussels. (Provided to China Daily)
Zhang said the congress elected the new CPC central leadership with Xi Jinping at its core and set the direction for China's future. It also said that the Chinese people should have greater confidence about their future.
"I am deeply convinced that the congress is of paramount importance to the CPC and China's development and will have a far-reaching impact on the whole world as well. I am certain that the congress is going to bring new opportunities to China-Europe relations," said Zhang.
Zhang said that in the course of opening up, China never plays a zero-sum game, never dominates others and never pursues selfish interests at others' expense.
Zhang said China places great importance on Europe, considers Europe a diplomatic priority and continues to give firm support to the European integration process.
China is ready to engage more with Europe to forge synergies between the Belt and Road Initiative and Europe's development strategies, and fully implement the China-EU 2020 Strategic Agenda for Cooperation.