'Natural treasure' helping villagers pine for better life
JALALABAD, Afghanistan - Extracting pine nuts is providing a lucrative and natural source of income for people living in the eastern regions of Afghanistan.
Attired in villagers' dress and wearing a black scarf, a female worker, who refused to reveal her name, said she can earn about 300 afghani ($4.40) a day to support her family.
"My duty here is to take out pine nuts from pine cones and usually I work four, five, or even six hours every day," she said.
Described by locals as a natural treasure, the pine nut trees, which grow in Nangarhar, Laghman, Nuristan, Kunar, Paktia, Khost and Paktika provinces, have been strictly protected by villagers.
The pine nut, which is an expensive dry fruit, is popular in Pakistan, India and other countries in the region.
The price of 1 kilogram of pine nuts in local markets $29, which is beyond the pockets of ordinary people in the conflict-battered country.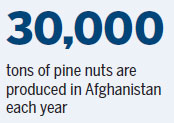 However, local traders said that the price can treble if the nuts are exported to other countries.
Time-consuming
Collecting the pine nuts in the traditional way by hand, according to locals, is difficult and time-consuming.
"We can increase our products if the government helps us to change the way of processing from traditional hand collecting to machine collecting and to modernize our packing system," said local trader Rasoul Khan.
Afghanistan, according to Khan, produces 30,000 tons of pine nuts, known as jalghoza, annually and the amount could increase if the government encourages investment in the sector.
In the past, the pine nuts, according to Khan, were exported largely to Pakistan but the expensive seed is currently exported to scores of countries and there are plans to send 10 tons of jalghoza to China and Thailand.
"Modernizing processing and packing of pine nuts would provide more job opportunities for people," said Hamisha Gul, a 35-year-old pine nut picker and resident of Kanda Chashma village.
Xinhua
(China Daily 10/31/2017 page10)