Tillerson calls for Iraqi unity, urges dialogue on Kurdish issue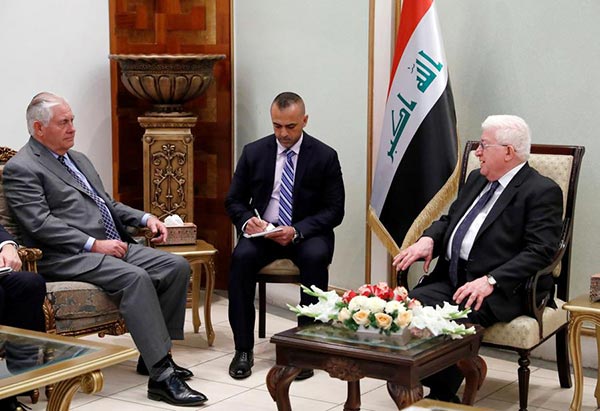 US Secretary of State Rex Tillerson (L) listens as Iraq's President Fuad Masum (R) speaks during their meeting in Baghdad, Iraq, Oct 23, 2017. [Photo/Agencies]
BAGHDAD - US Secretary of State Rex Tillerson said Monday that Washington was keen on dialogue between Iraqi government and the Iraqi Kurdish region to solve the Kurdish issue.
Tillerson made his remarks in his discussion with Iraqi Prime Minister Haider al-Abadi over the tension between Baghdad and the semi-autonomous region of Kurdistan.
In a statement by the prime minister's office, Tillerson said that the United States supported Iraq's unity and called for the importance of adherence to the constitution.
For his part, Abadi said what Baghdad did in Kirkuk was redeployment and imposition of state power, which are legal and constitutional procedures.
"We do not want to fight a battle with any (Iraqi) components, all of them are our sons, and when we entered Kirkuk we sent a clear message that the Kurdish citizens are Iraqis and we deal with them like other components," Abadi said.
The statement said that the two sides also discussed "enhancing bilateral cooperation in various fields and the war against terrorism."
Abadi stressed that the fight against terrorism "is still a priority for us and we will continue to liberate the remaining areas of the country and secure the borders."
Abadi told Tillerson the paramilitary Hashd Shaabi unit "is an official institution which is part of the Iraq institutions. We have to encourage the (Hashd Shaabi) fighters because they will be the hope for the country and the region."
Earlier in the evening, Tillerson arrived in Baghdad on unannounced visit to meet with Iraqi leaders following last month's independence referendum held by the Kurdistan regional government, according to an Iraqi Foreign Ministry official who spoke to Xinhua on condition of anonymity.
Tillerson would also discuss the reconstruction efforts after the defeat of the Islamic State (IS) group in the major IS strongholds in the country, the official said.
Hundreds of US troops are already in Iraq, serving as trainers and advisers, in an attempt to help the country win the battle against IS militants.
The US-led international coalition has also been conducting air raids against IS targets in both Iraq and Syria.