World condemns deadly ambush of police officers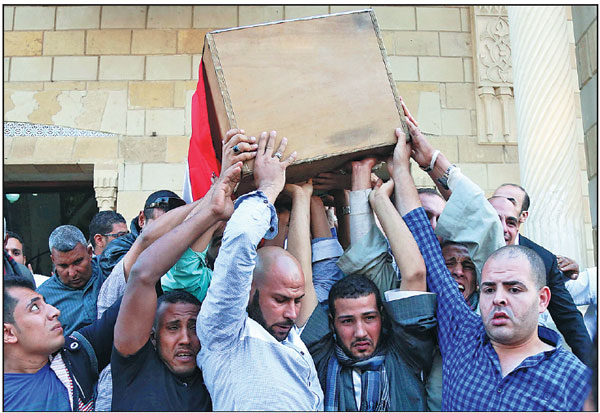 Mourners carry the coffin of police captain Ahmed Fayez, who was one of 16 officers killed in a gun battle on Friday in Giza province, during his funeral at Al-Hosary mosque, in Cairo, Egypt, on Saturday.Alaa Elkassas / Associated Press
IS suspected after 16 personnel killed in 'carefully planned' attack
The world has voiced strong support for the battle against terrorism after a shootout between Egyptian police and terrorists left 16 officers dead in the desert of Giza province.
Fifteen terrorists were either killed or injured in the ambush on Friday, the Egyptian Interior Ministry said.
Early reports estimated that more than 50 policemen were killed.
No group has yet claimed responsibility but authorities said it bore all the hallmarks of Islamic State.
The United Nations Security Council, in a press statement, condemned "in the strongest terms" the ambush and underlined the need to bring perpetrators of acts of terrorism to justice.
The 15-nation council urged all states to cooperate actively with the Egyptian government.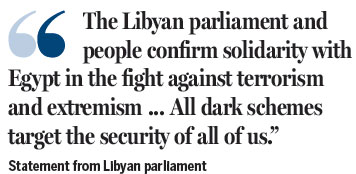 Arab League Secretary General Ahmed Aboul-Gheit also denounced the terrorist attack and expressed full support for Egypt in its battle against terrorism.
The attack proved once again the significant danger posed by terrorism against Arab societies, the AL chief said.
Jordan's Minister of State for Media Affairs Mohammad Momani expressed Jordan's support for Egypt as well as its efforts in standing up against terrorism and preserving the country's security and stability, local media reported.
Momani called for increased regional and international efforts to combat terrorism and radical ideologies, especially after the success in defeating Islamic State.
Likewise, the Libyan eastern-based parliament stressed the importance of security coordination with Egypt to eliminate terrorist organizations, according to a statement.
"The Libyan parliament and people confirm solidarity with Egypt in the fight against terrorism and extremism. Our war against terrorism is common. All dark schemes target the security of all of us," the statement said.
In addition, the Israeli Prime Minister's Office said "there is no difference between terrorism that inflicts Egypt and terrorism that inflicts other countries," according to a statement.
Israel called for united forces with other countries "to defeat terrorism more quickly," it said.
The United States condemned the attack in a statement issued by State Department, offering "profound condolences to the families of the deceased and the government and people of Egypt... at this difficult time."
The firefight began when security forces acting on intelligence moved against a militants' hideout in the al-Wahat region of Giza, authorities said. Backed by armored personnel carriers and led by senior counterterrorism officers, the police contingent drew fire and rocket-propelled grenades, according to the officials.
The officials said what happened next is not clear, but it was thought the force ran out of ammunition and the militants captured several policemen and later killed them.
The officials said the ambush had been carefully planned by the militants.
Xinhua - AP