Helping pay for a dream of prosperity
China's support for projects will allow Tanzania to improve some of its key sectors
China has given $13 million to Tanzania to support its key sectors of education, tourism and sports, with the aim of boosting the country's economy.
Up to $10 million of this will be used to support the construction of a new vocational training center in the Kagera Region of northwest Tanzania.
James Doto, Tanzania's permanent secretary in the Ministry of Finance and Planning, says the money will be used to construct 19 classrooms that can accommodate 400 students and nine training workshops for building capacity in electronics, plumbing, carpentry, masonry and painting.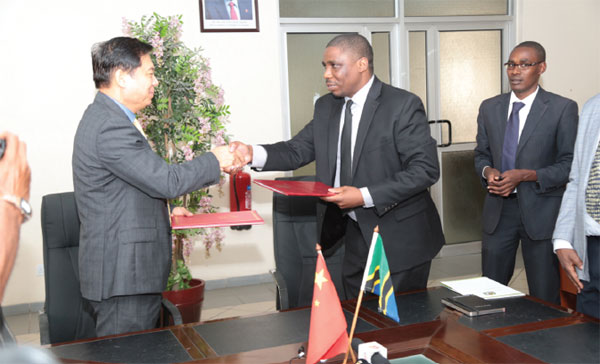 China's Acting Ambassador to Tanzania, Gou Haodong and Tanzania's Permanent Secretary in the Ministry of Finance and Planning James Doto during the signing of the $13 million agreement in Dar Es Salaam, Tanzania. Chris Mabeya / China Daily
"This support from China complements efforts by the government to provide the vocational skills needed for people to actively participate in the manufacturing sector," says Doto.
"The beneficiaries will then be able take part in entrepreneurial activities and contribute to addressing the challenge of unemployment in our country."
There will also be technical and financial support for the China-aided National Stadium.
"This will be the sixth phase of technical cooperation, which the government of China has been providing since the construction of the 60,000 seat stadium," says Doto.
In addition, funds will enable Chinese experts to undertake a feasibility study for the establishment of the Geopark Project in Ngorongoro National Park. This will be the second in Africa - after one in Morocco - and the first south of the Sahara.
One of the successful outcomes of the UNESCO Global Geopark Initiative was the Yuntaishan World Geopark in Jiaozuo, Henan province, which was established in 2000, leading to an annual tourism increase of 37.2 percent.
According to Freddy Manongi, Ngorongoro Conservation Area Authority conservator, tourists from China, South Korea, Japan and other Asian countries enjoy seeing landscapes, mountains, caves, gorges and other geological features of the type found found at the Geopark Project.
"We are indeed proud of the assistance from China, which has remained reliable even during the most challenging times," says Gou Haodong, China's acting ambassador to Tanzania, adding that China will continue cooperating with Tanzania on enhancing tourism, sports and education to encourage economic development.
"Through projects, for example in tourism, we will be happy to see more Chinese visiting Tanzania to see attractive places like Ngorongoro. We are also the largest investor in sports for ongoing improvement of the National Stadium."
Tourism is crucial for Tanzania's economy, contributing a quarter of the country's foreign exchange and supporting more than half a million jobs directly or indirectly.
In 2004, then Chinese president Hu Jintao agreed with then Tanzanian president Benjamin Mkapa to aid Tanzania's tourism. In March 2013, President Xi Jinping took up the matter with former Tanzanian president Jakaya Kikwete and agreed to make Tanzania a leading destination for Chinese tourists.
In education, China has offered 700 scholarships for young Tanzanians to study in China. So far, 7,000 have gained degrees in many disciplines.
According to data from the Tanzania Investment Centre, Chinese aid to the country increased to $7 billion in 2017 from $700 million in 2015, a tenfold increase.
Chinese investment has not only contributed to local tax revenue and job creation, but has also brought high technology, efficient management and high-quality products to Tanzania. It is expected that Chinese investment in Tanzania will continue to grow, and collaboration on manufacturing, construction, aviation, agriculture and energy is also likely to boom.
It is hoped that Chinese-invested projects will help to improve Tanzania's dream of upgrading its economic and social development and industrialization, making it a middle-income country by 2025.
Major projects with Chinese investment include the natural gas pipeline from Mtwara to Dar es Salaam.
For China Daily