Sino-Egyptian manufacturing deals signed at Ningxia event
Chinese automakers to help partners dominate regional market, lower costs
The China-Arab States Auto Cooperation Conference witnessed the signing of two Sino-Egyptian agreements that aim to shift the two countries' automotive cooperation toward localization, as part of the growing network of international ties along the Belt and Road.
The China Council for the Promotion of International Trade, Automotive Industry Committee and Egypt's Holding Company for Maritime and Land Transport inked the deals relating to deepening Sino-Egyptian links in the automotive industry.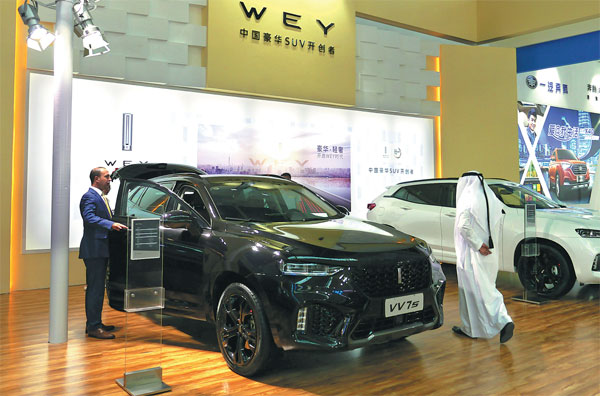 Visitors look at a Chinese-branded vehicle displayed at the China-Arab States Expo on Sept 7 in Yinchuan, capital of Ningxia Hui autonomous region. Hao Yan / China Daily
"Chinese auto exports are recovering after years of decline, with Egypt being one of the biggest export destinations among the Arab states since 2015," said Wang Xia, chairman of the Automotive Industry Committee of the China Council for the Promotion of International Trade, in his speech on Thursday at the conference held in the Ningxia Hui autonomous region.
Mohamed Youssef, chairman of the Holding Company for Maritime and Land Transport, said: "We are going to seal the deal on the production of a total of 900 vehicles a month, with an expectation to leverage Chinese automakers' experience in assembling and machinery."
Youssef announced that the organization's next critical target is to secure agreements on tractors and bulldozers with Chinese partners in 2018.
Egypt has a huge domestic market that could consume a large amount of China-made vehicles, because the products suit local demand, offering lower prices and economic fuel consumption, according to Egyptian Trade and Industry Minister Tarek Kabil.
He said Egypt's multi-million-dollar automotive market is growing.
According to Kabil, Egypt's development strategy is to focus on local car manufacturing in a bid to conquer its neighboring markets - for example Turkey - thanks to its lower production costs, said Kabil.
The current Sino-Egyptian cooperation agreement is in line with this strategy, as Chinese automakers have shifted their business model away from shipping low-price finished vehicles, toward joint initiatives such as manufacturing locally and co-investing in distribution channels, according to Wang. SAIC-GM-Wuling Automobile, BAIC Group, Changan Automobile, Sinotruk Group, King Long United Automotive Industry, JAC Motors, and Chongqing Sokon Industry Group were among the top Chinese auto exporters to Arab markets in the first seven months of this year, according to data from CCPIT-Auto. The auto committee said that, as of 2016, Sudan and Tunis have emerged as the third and fourth most significant long-term auto export destinations among the Arab states, following Egypt and Saudi Arabia, with Djibouti coming in at fifth.
Challenges ahead
The speakers at the conference commented on the challenges Chinese automakers face in the Arab markets, where policy changes could have a significant influence on projects.
"Chinese automakers need to conduct thorough research into the legal framework of the target markets to secure legitimacy while lowering legal risks," said Qiu Yiqing, deputy general manager of Geely.
Luo Zengmiao, general manager of BV-VEO Standards Technical, said there were many detailed issues for Chinese carmakers to examine.
He gave the example: "Many Arab states treat a model with minor changes as a new model, so Chinese auto exporters will have to file new paperwork for those new models.
"If customs were to block products because of a lack of new model documentation, the company would have to spend months making the relevant applications, leaving those products with only minor upgrades stuck in storage."
The auto cooperation conference was organized by CCPIT-Auto as part of the China-Arab States Expo. It brought together Chinese and Arab automobile and transportation leaders in Yinchuan, capital of Ningxia, along with government representatives and academics.
The entire expo assembled executives from more than 1,000 companies and nearly 5,000 exhibitors from 31 industries.
The expo has been held three times since 2013, the year the Belt and Road Initiative was first proposed.
At the junction of the Belt and Road that spans across Eurasia, Arab countries are eager to revitalize the ancient trade routes, according to Egyptian Trade and Industry Minister Kabil.
Six Arab states have signed agreements with China relating to Belt and Road projects, and seven are founding members of the Asian Infrastructure Investment Bank.
The Belt and Road Initiative, which refers to the Silk Road Economic Belt and the 21st Century Maritime Silk Road, has made landlocked Ningxia the frontier for opening-up and taking the lead in economic cooperation with Arab countries.
haoyan@chinadaily.com.cn