Making a business from opportunities
Making a business from opportunities Kenyan's visit to China gave him the idea of helping enhance two-way trade
Eight years ago, Kenyan Walter Ruigu-then a student at Georgetown University, in Washington DC, pursuing an undergraduate degree in international economics-traveled to China. His intention was to carry out a research on the China-Africa economic relationship, specifically on what Africa could learn from China in terms of economic development.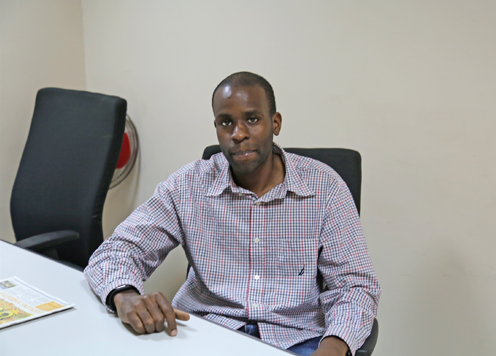 Walter Ruigu, managing director of Camal Group.

[China Daily] 
In the process of his field work, he realized that the only Kenyan company with a presence in China was Kenya Airways in Beijing, even though there were numerous potential business opportunities.
An idea clicked in his mind. What if he started a firm that would help African companies to tap into the numerous opportunities in China? That brainwave gave birth to Camal Group in 2011.
With operations in China, Kenya, South Africa, Zambia, Algeria and Cote d'Ivoire, the firm helps African companies across various industries access China as a source of supplies, a market for products and a source of capital and technical expertise. Additionally, it helps Chinese companies source commodities from Africa.
Ruigu works mostly from offices in Beijing and Kenya. His company focuses on three segments: procurement, commodity trading and investment advice.
In terms of procurement, Camal helps companies obtain equipment, steel products and chemicals from China. In commodity trading, it helps mining companies export to China. In investment advice, it helps manufacturing, mining and construction companies find Chinese partners to finance their projects.
"We focus keenly on what a specific client needs and commit our time in meeting their specifications," he says. Ruigu says offering value to customers is one reason why his company has been so successful.
"We help our clients to understand China. We try to remove the surprise element and the mystery about the country," he says.
While China has many reliable manufacturers, Ruigu says finding them is not always easy. Additionally, there is the language barrier. These are the challenges that Camal Group seeks to help its clients deal with.
"Our job is to make it easy for our clients to sleep soundly at night, knowing that somebody is going to handle all the technicalities and complexities of dealing with China," he says.
Going forward, he says the group plans to expand into West Africa. It also wants to diversify into exports to China, focusing on the agricultural sector. This is in addition to focusing more on the engineering, procurement and construction sector.
When Riugu first came up with his business idea, he could find few who believed in it.
When he told his family and friends that he was planning to establish a trade and investment consulting firm in China, they were surprised and could not understand why he was considering making a foray into a country that was not only foreign but also a mystery to many Africans.
"Most of my family members and friends were shocked by my decision. They could not understand how the company would operate. But today they admit that I made the right decision," he says.
Noting that China is one of the few successful models for poverty alleviation, he was interested to learn what Africa could borrow from the Asian country in terms of growing its economy. The opportunity seemed very clear so he could not turn back.
When he visited China, Ruigu was fascinated by its developed infrastructure and the people's hard-working culture. He learned Chinese, which has enabled him to communicate effectively with his clients.
He says the Chinese put a great emphasis on their work ethic and discipline and he would love to see these replicated in Kenya.
"Chinese are hardworking and keen on timekeeping. Meetings in China begin on time-or some minutes before time-but not late. People are also willing to work weekends and overtime. Every employee is focused on achieving a certain goal," he says.
Ruigu says there are many great opportunities in China. "There are so many things to do but we cannot do them all. We have to choose where we have a competitive advantage or sectors where we are mostly knowledgeable. Many people ask what does the Chinese market need? What do they want from Africa?" he says.
That is not necessarily the right question. The companies need to ask how they can deliver what they are making, he says.
"We also see Chinese companies making good products that can benefit Africa but it's not possible to work with all the Chinese manufacturers."