Chinese firms donate $200,000 in cash to Sierra Leone following mudslide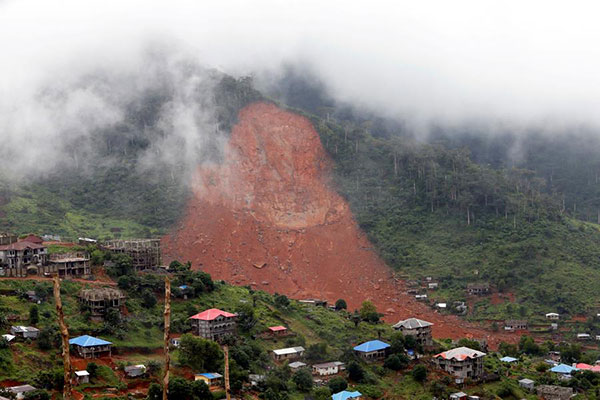 A general view of the mudslide at the mountain town of Regent, Sierra Leone, Aug 16, 2017. [Photo/Agencies]
FREETOWN - Chinese companies and medical team members operating in Sierra Leone on Wednesday donated $200,000 in cash as well as other materials towards the efforts of the government in trying to support people affected by the flood and mudslide disaster.
The disaster, which struck the outskirts of the West African nation's capital city Freetown on Monday buried hundreds of Sierra Leoneans in various communities, including Regent, Mount Sugar-Loaf, Kamayama, Kaningo and Dworzark, among others.
The incident, apparently the worst of its kind in the country's history, also left thousands of people homeless across the city of Freetown.
Speaking during the donation ceremony, charge d'affaires at the Chinese Embassy Wang Xinmin said the people of China are with Sierra Leone during this moment of grief because the two countries are like brothers and sisters.
"Our hearts and minds are with the government and people of Sierra Leone in this time of difficulty. We are always with you. This donation is a token of our friendship and we will continue to do more," he said.
He disclosed that the Chinese government is currently putting modalities in place to send in their own support to help the Sierra Leonean government care for the victims of the disaster.
Vice-President Victor Bockarie Foh welcomed the support from Chinese companies in the country and assured that the items and cash donated would be used for the intended purpose.
"I am glad that you care for us. The money and materials donated will be handed over to the Office of National Security. Over 400 dead bodies have been discovered and we are starting to bury them," he said.
"We will take measures that will address this calamity...We cannot stop natural disasters but we must be prepared to care for our people. So many areas are affected. We are in a state of shock and mourning," he said.
He disclosed plans by the government to evacuate those in disaster-prone areas to safer areas and also build affordable homes for the people.