How Harbin doctor earned respect, love in Mauritania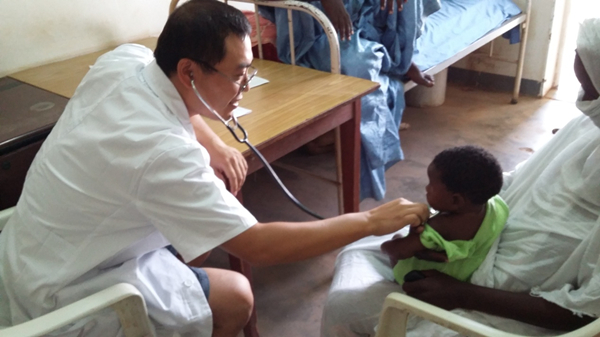 Wang Zhibing treats a boy in Kiffa, a city in south Mauritania. [Photo provided to chinadaily.com.cn]
After spending one year providing medical assistance in the Northwest African country of Mauritania, Wang Zhibing has returned to his hometown Harbin, capital city of Heilongjiang province.
Wang, 45, an associate chief physician of the general surgery department in Harbin Children's Hospital, received more than 1,400 patients and performed hundreds of operations in the hospital of Kiffa, a city in south Mauritania.
"Harbin has a long history of sending medical personnel in the country, but it was the first time that a pediatrician had been invited to join in," said Wang. "So when I got the news that the 32nd batch would be sent in last July, my first thought was I must participate in the mission and it would be a big plus in my career."
Before departing, Wang did lots of research about the situation in Mauritania, especially the city where he would be based.
"I thought I was ready for the challenges, from the extreme natural conditions to the serious health challenges," he said. "But when we landed in Kiffa, we were overwhelmed by a series of difficulties beyond our imagination."
Kiffa, with a tropical desert climate, is extremely dry and hot. The huge temperature differences between Harbin and Kiffa were very challenging.
"There were mosquitoes and other insects that we never saw in China," said Wang, adding "sandstorms would engulf the area without notice."
"But all these difficulties could not dampen the spirit of the Chinese doctors. From the first day we set foot there, we knew we had to stick to our posts," he said.
The Chinese doctors were warmly welcomed by the locals.
"In their eyes, the Chinese doctors are omnipotent and we can save their lives under any circumstances," said Wang. "They would ask Chinese doctors for help with eager eyes when they got sick."
Almost everyone there can say "hello, Chinese doctor" in Chinese.
Due to the extremely high temperature and the rampant flies, a large number of the outpatients suffered diarrhea, especially in the period between April and October.
"I still remember during a night shift, I received six children who were suffering diarrhea and one of them had been in moribund condition because of serious dehydration," said Wang. "I treated him and finally the little boy recovered. He said goodbye in Chinese to me before he left."
Besides the daily work as a pediatrician, he often treated adult patients and also gave the obstetric nurses in the hospital a training course about how to dispose neonates.
"In the past year, I felt quit honored as a Chinese. I received great trust and respect from the local residents. They have appreciated our help in the past decades."
"Just like Leng Feng, a former Chinese special forces operative says in the film Wolf Warrior II, I will always remember, there is a strong motherland behind me and supporting me," Wang said.