US federal court rules in favor of Chinese businesswoman beaten by border agent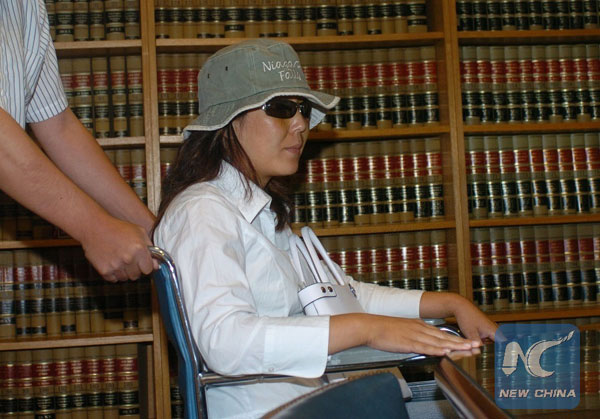 Zhao Yan sits in a wheelchair on her way to receive an interview by Xinhua and other media at a law office in Queens District of New York City, the United States, July 27, 2004. [Photo/Xinhua]
NEW YORK - A US federal judge has ruled in favor of Chinese businesswoman Zhao Yan, who sued the US government after she was beaten and injured by a US border inspector at the Niagara Falls in 2004.
District Judge Elizabeth Wolford awarded Zhao 461,152.09 US dollars in damages for the injuries that she suffered from the assault by the US Customs and Border Patrol Officer Robert Rhodes, according to the ruling documents of the US District Court for the Western District of New York in Rochester.
Wolford's ruling found the US government liable for Rhodes' "assault and battery and false arrest" of Zhao when she was sightseeing at the Rainbow Bridge US-Canada border crossing in Niagara Falls 13 years ago.
Zhao was entitled to recover 64,313.18 US dollars in past medical expenses, 1,838.91 in past lost earnings, 260,000 in past pain and suffering, 125,000 in future pain and suffering, and 10,000 for false arrest, said the ruling.
On July 21, 2004, Zhao, from North China's Tianjin, was pepper-sprayed and struck by Rhodes as he mistook then 37-year-old lady as a drug smuggler. Zhao was never charged in the case and she sued the US government for 10 million dollars soon after the incident. Rhodes initially was fired and criminally charged with violating Zhao's civil rights. He was acquitted at a 2005 trial and eventually reinstated to his job.