Ceremony in Angola marks start of hydropower project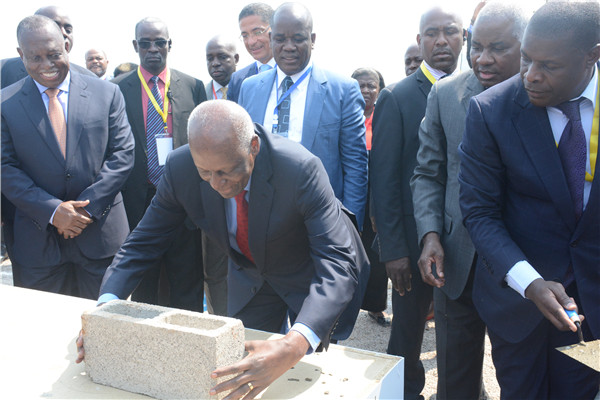 Angolan President José Eduardo dos Santos lays down the first symbolic brick at the Caculo Cabaça Hydropower Project, marking the official start of the construction of the project. [Photo by Pan Zhongming/chinadaily.com.cn]
Angolan President José Eduardo dos Santos laid down the first symbolic brick at the Caculo Cabaça Hydropower Project, the largest hydropower station in Africa, marking the official start of the project's construction.
Located at the North Kwanza province, the hydropower project will be constructed by China Gezhouba Group Co, Ltd (CGGC).
In comments at the opening ceremony, Angolan Minister of Energy and Water Resources João Baptista Borges said the project is crucial to Angola's future economic standing.
"It will solve the power shortage in Angola and play an active role in increasing employment of the country," he said, adding that the Angolan government is appreciative to the Chinese government and Chinese enterprises for their support in the development of Angola.
Cui Aimin, Chinese ambassador to Angola, said in his remarks that China is Angola's largest trading partner while Angola is the China's second-largest trading partner and the largest source country of imports in Africa. To date, Angola is one of the countries in Africa where China has conducted most investment and financing cooperation and infrastructure construction. China has invested nearly $50 billion in the country, covering various areas in infrastructure construction.
According to Ren Jianguo, deputy general manager of CGGC, it will turn Caculo Cabaça Hydropower Project into a high-quality project, contributing to Angola's energy and power needs, infrastructure improvement, social and economic development and people's livelihoood.
Angola Caculo Cabaça Hydropower Project is the largest hydropower station in Africa to be constructed by a Chinese company, which is dubbed as the "Three Gorges Project of Africa". When completed, the project will greatly narrow the power supply gap of the country.
The project has a total contractual value of $4.532 billion and has a planned installed capacity of 2,172 million kilowatts. It project will be completed within 80 months, and during peak construction nearly 10,000 jobs will be provided for the local area.
According to the contract, CGGC will also be responsible for the four-year operation and maintenance of the power plant and for training a group of professional power plant operation management and technical personnel for Angola.
CGGC built its reputation with the construction of the world's largest milestone water conservancy project, the Three Gorges Project. It is a multinational group company with international competitiveness focusing on investment, construction, environmental protection, real estate, cement, civil explosive, equipment manufacturing and finance.
In recent years, CGGC has experienced rapid growth in international business, having formed a comprehensive global market strategic distribution with more than 100 overseas branches in five continents and more than 100 international projects under construction.
panzhongming@chinadaily.com.cn