Southern California hit by strong storm leaving 5 dead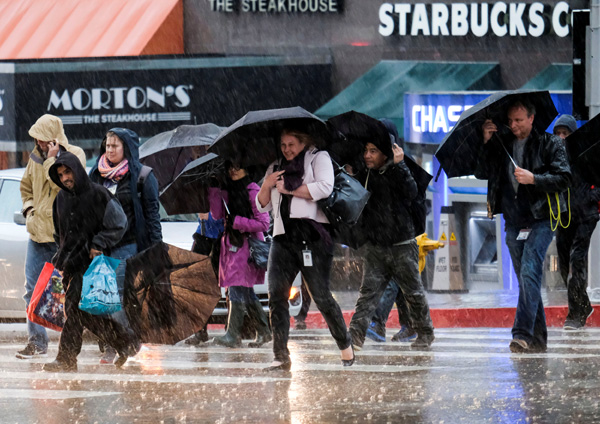 People with umbrellas walk across a street in Los Angeles, California, US February 17, 2017. [Photo/Agencies]
LOS ANGELES - Southern California region in western United States was hit by a massive Pacific storm during last weekend, which was described by weather service as the strongest in years, leaving at least 5 dead.
The storm swept into Southern California since Friday morning, bringing torrential rain and gusting winds to the region while also spreading precipitation up to San Francisco, 700 kilometers north to Los Angeles and down to Imperial Valley, 300 kilometers southeast to the second biggest city in the country.
In El Centro of Imperial County, the southernmost desert city below sea level in the continental United States, a light drizzle lasted more than 10 hours.
"This region had over 350 days of sunshine and under 3 inches (76 mm) of rain annually, these two days you will see a very different view in the valley," Ralph Cordova, the County Executive Office, told Xinhua on Saturday.
Record-breaking rainfall was recorded across southwestern California. Santa Barbara Airport saw 4.16 inches (105 mm) of rain, beating the record of 2.08 inches (52 mm) set in 1980, according to the National Weather Service.