Ecuador's ruling party candidate declares victory in exit polls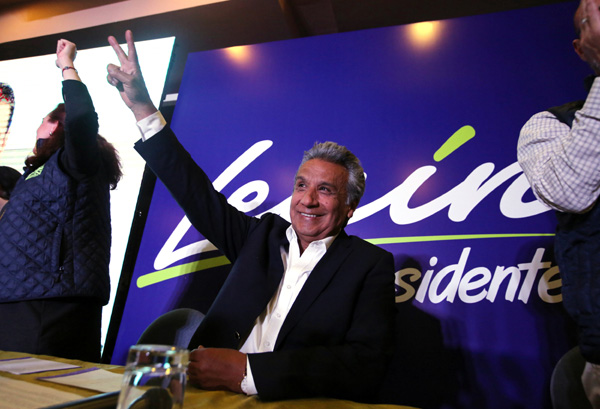 Lenin Moreno, candidate of the ruling PAIS Alliance Party, gestures at the Hotel Colon during the presidential election in Quito, Ecuador February 19, 2017. [Photo/Agencies]
QUITO - Ecuadorian presidential candidate Lenin Moreno on Sunday declared victory after at least two exit polls showed him with a substantial 10-point lead over his closest rival.
While the exit polls are not official, Moreno, of the ruling PAIS Alliance, seized the opportunity to rebuke his rival Guillermo Lasso of the Creating Opportunities (CREO) party, for mud slinging during the campaign.
"The important thing is we have shown that you can win elections by running a clean campaign," Moreno told reporters.
Moreno garnered 42.9 percent of the votes, followed by Lasso with 27.7 percent of the votes, according to polling firm Opinion Publica.
To win in the first round and avoid a runoff, Ecuadorian law requires a candidate to get at least 40 percent of the votes with a 10-point advantage over the runner up.
Pollster Market reported Moreno leading with 36.2 percent of the votes, trailed by Lasso with 26.1 percent.
However, as many as 12 polling firms were registered to carry out exit polls, and survey taker Cedatos reported the results were closer, with Moreno getting 39.4 percent versus 30.5 percent for Lasso, which would lead to a runoff in April.
Firmer results are not expected until after 7:00 or 8:00 pm local time, when the National Electoral Council (CNE) announces the results of its initial count.