3 held in Kim Jong-nam's death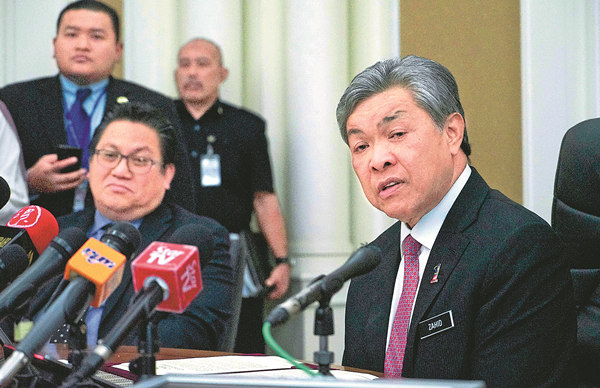 Malaysian Deputy Prime Minister Ahmad Zahid Hamidi (right) tells reporters about suspects arrested in the death of Kim Jong-nam, the half brother of DPRK top leader Kim Jong-un. Hamidi spoke at a news conference Thursday in Putrajaya, Malaysia. King Chai / AP
A senior Malaysian police official said on Thursday that a third suspect has been arrested by police in the death of a man from the Democratic People's Republic of Korea.
Also Thursday, the Malaysian government confirmed that the man was Kim Jong-nam, the half brother of DPRK top leader Kim Jong-un.
Abdul Samah Mat, the police chief of Selangor state, told Xinhua that the suspect, a 26-year-old Malaysian man, was arrested in Ampang.
The man is believed to be the boyfriend of the second suspect, a woman with an Indonesian passport who was arrested on Thursday morning.
The police have been looking into connections between the suspects and trying to pin down what their roles may have been in the death of Kim Jong-nam.
The police have been investigating Kim's sudden death as a murder case, and a local court has granted a seven-day order remanding the first two suspects into custody.
The first female suspect, holding a Vietnamese passport, was arrested on Wednesday at the Kuala Lumpur International Airport's second terminal, where Kim had sought help after feeling unwell on Monday.
Kim died later on Monday en route to a hospital. His body was taken to a hospital in Kuala Lumpur on Wednesday for an autopsy. Results had not been released by Thursday evening.
Kim had a liquid sprayed in his face when two women set upon him, Agence France-Presse quoted Malaysian police as saying.
Malaysian police issued a statement on Wednesday saying that the man was a 46-year-old from the DPRK who it identified as Kim Chol, born on June 10, 1970 in Pyongyang, based on his travel documents.
Malaysian Deputy Prime Minister Ahmad Zahid Hamidi said on Thursday that the man was Kim Jong-nam, adding Malaysia would release the body only after an autopsy.