French candidate Fillon expresses "fierce determination" to stay in presidential race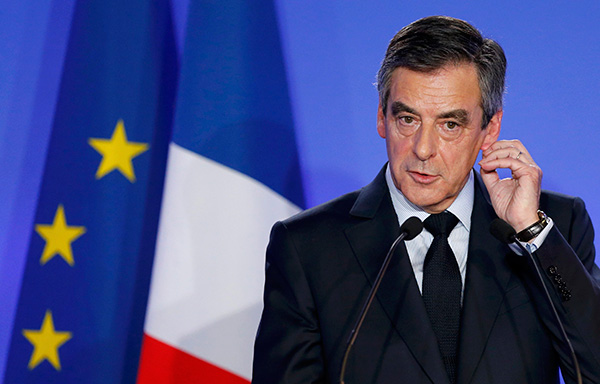 Francois Fillon, former French prime minister, member of The Republicans political party and 2017 presidential candidate of the French centre-right, reacts during a news conference about a "fake job" scandal at his campaign headquarters in Paris, France, February 6, 2017. [Photo/Agencies]
PARIS - French conservative candidate Francois Fillon on Monday expressed "fierce determination" to stick to his presidential bid amid tumbling popularity after allegations over his wife's fake job engulfed his campaign.
In a counter-attack against claims of hefty salaries paid to his wife's fictitious job, Fillon told reporters "I am the only candidate which can bring about a national recovery."
"A new campaign starts this evening," he stressed. "Perhaps the violence of the attacks against me have strengthened my determination," saying he would not change his mind about his candidature.
At a news conference in Paris, the 62-year-old ex-prime minister reiterated that his wife had been his parliamentary assistant for 15 years and her job had been "perfectly justified."
Meanwhile, he apologized for the ethical "error" he made in hiring his wife and their two children, a practice which he said was no longer acceptable according to public opinion.
"I perhaps took more time than necessary to understand the changes in French society," he said.
To defend his honest conduct, Fillon is to publish all of his wife's contracts later on Monday on his campaign website.
The Republican Party candidate, who pledges tough cut in public spending, had been the clear front-runner to occupy the Elysee Palace for next five years until last week.
Since the scandal emerged that his wife was receiving hefty salaries for an alleged job she did not do, he lost his top spot and is now in the third place in the presidential race.
An Opinionway survey released earlier in the day, showed that Fillon would not make it into the May presidential run-off.
With only 20 percent of voter intentions, the former prime minister trailed in the third place behind far-right leader Marine Le Pen and independent centrist candidate Emmanuel Macron, set to collect 26 percent and 23 percent respectively.
For the second round, Macron will largely beat Le Pen with 65 percent against 35 percent.