NATO chief, US Trump discuss burden-sharing over phone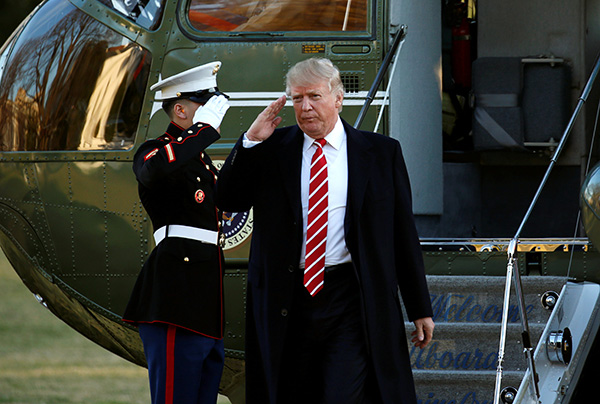 US President Donald Trump returns a salute as he steps from Marine One upon his return to the White House in Washington February 6, 2017. [Photo/Agencies]
BRUSSELS - NATO Secretary General Jens Stoltenberg and US President Donald Trump stressed the need for continued efforts to ensure fair burden-sharing among the ll NATO allies over phone, NATO said in a statement Monday.
The two leaders discussed by telephone on Sunday evening, during which they "reconfirmed the importance of the Alliance in troubled times, reviewed progress on the fight against terrorism and on NATO defence spending", according to the statement.
They also discussed "the uptick in violence in eastern Ukraine".
As for Russia, NATO chief talked about NATO's policy of strong defense and dialogue with Russia during the conversation.
The two leaders will discuss related issues at the upcoming NATO Summit in Brussels in late May, according to the statement.
It was Stoltenberg's second phone conversation with Trump since his election, after the first phone call last November.
Trump's comments over NATO had caused concern across the alliance.
In a recent interview, Trump said NATO was "obsolete because it was not taking care of terror", and he complained that various members of the bloc were not paying their dues, which was "very unfair to the United States".