Super Bowl goes social as NFL seeks China touchdown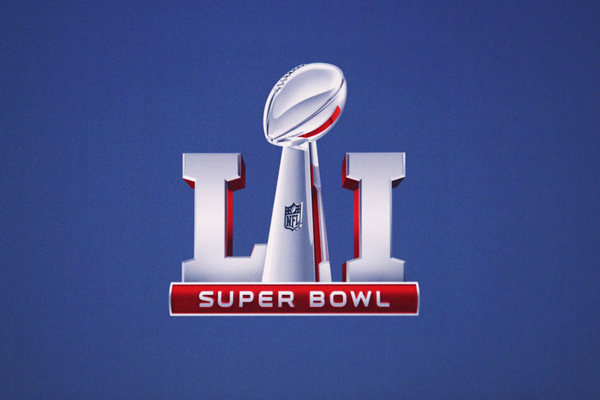 The Super Bowl logo. [Photo/VCG]
As millions around the world settle into couches and tune into the Super Bowl on big-screen TVs on Sunday, fans in China will be watching the American football championship on mobile phones and tablets - on their way to work.
The National Football League is looking to score with audiences in China, where the game starts during morning rush hour, via a push on social media. For the first time, the Super Bowl will stream live on popular messaging platform Sina Weibo .
The stakes are high for the league's bid to tap the enormous potential of China's 1.4 billion people.
US sports leagues and media companies are increasingly looking to China's market for growth. World Wrestling Entertainment, for example, is training Chinese athletes in hopes of turning them into television sensations.
For this year's Super Bowl between the New England Patriots and Atlanta Falcons, one of the biggest hurdles is the Sunday afternoon kickoff, which will come at 7:30 on Monday morning in China, 14 hours ahead of game time at NRG Stadium in Houston, Texas.
China's interest in football provides another challenge. The sport is still new to the country, and the NFL is pushing tie-ups with more than a dozen platforms on regular television and online to help reach viewers, even at rush hour, Richard Young, managing director for NFL China, told Reuters in recent interviews.
"They watch (the games), they pause them. They get on and off the bus and on and off the taxi," Young said.
The NFL wants to build enthusiasm in China and other overseas markets after a season in which US television viewership dropped 8 percent, according to Nielsen data, to a weekly average audience of 16.5 million.
About 1.5 million people in China now watch live NFL matchups each week on digital platforms, Young said. Many are young people aged 20 to 30 who catch games on mobile phones as they commute, he said.
Some Chinese fans follow the league by watching only highlights rather than entire games. The NFL provides near-live recaps with a series of short clips that show big plays soon after they occur on the field.
The fan base in China has grown 1,000 percent over the past five years, Young said.
'BOOT CAMPS'
The Super Bowl broadcast in China will feature Chinese graphics and announcers explaining the rules and plays. The NFL has hosted "boot camps" for Chinese commentators to bone up on touchdowns, fumbles and other football jargon.
Hong Kong superstar singer and actor William Chan, the NFL's China ambassador, will attend the game in Houston, where he is expected to post updates for his more than 21 million followers on Weibo.
And later this year, the league plans to expand a fantasy football league it is testing called Tian Tian NFL, Young said.
Still, the NFL lags far behind sports such as basketball in China. Industry experts said many of today's football fans in China are Americans living abroad or foreign-born Chinese.
"There is no existing fan base but for the expats and people who were educated and lived in the United States," said Marc Ganis, the president of consulting firm Sports Corp Ltd and an adviser to NFL teams, who has worked in China for more than a decade. "That's an enormous challenge."
The social media drive will fit well with the sport in China, said Ed Desser, a former NBA television executive who helped popularize American basketball in China.
"You can converse with your friends or people who were complete strangers who happen to be watching the same game," said Desser, now president of consulting firm Desser Sports Media. "It's the virtual bar stool."