China, US should respond to difficulties by cooperation: Chinese ambassador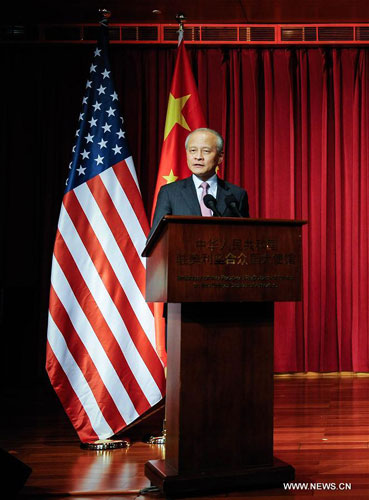 Chinese Ambassador to the United States Cui Tiankai speaks at the Chinese embassy's New Year reception in Washington, D.C., the United States, Feb 1, 2017. [Photo/Xinhua]
WASHINGTON -- China and the United States should always cooperate in the face of challenges, Chinese Ambassador to the United States Cui Tiankai said Wednesday.
"We have learned that we should always respond to difficulties and challenges by cooperation, instead of conflict or confrontation," Cui told a 500-member audience at the embassy's New Year reception.
"We should work together for win-win cooperation, instead of being misguided by zero-sum or cold war mentality," the ambassador noted.
Cui stressed that cultural exchanges can bring people closer to each other, and he hoped the traditional Chinese music, Peking Opera, Acrobatics, and handicrafts featured at the reception would win the hearts of the guests.
Hailey, 8 and her sister Ashley, 7, were beaming when they were given a tiger figurine made of sugar from one of the Chinese craftsmen. "I was born in Hong Kong and knew a little about Chinese culture, I really like coming here," Hailey said.
Erika Crowell, another guest, said it's the third time she has come to such an event, and each time she learned something new about China.
"All the handiwork were very intricate and I was impressed by how dedicated the craftsmen were to their work, I should learn from them," She said.
Ivanka Trump, daughter of U.S. President Donald Trump, also came to the event with her daughter.
The reception was one of a series of Spring Festival-themed events organized by the Chinese Embassy. Chinese artists and craftsmen will also perform and display their talent at the Kennedy Center for the Performing Arts in Washington on Saturday.