Britain's best days still to come outside EU, says Brexit chief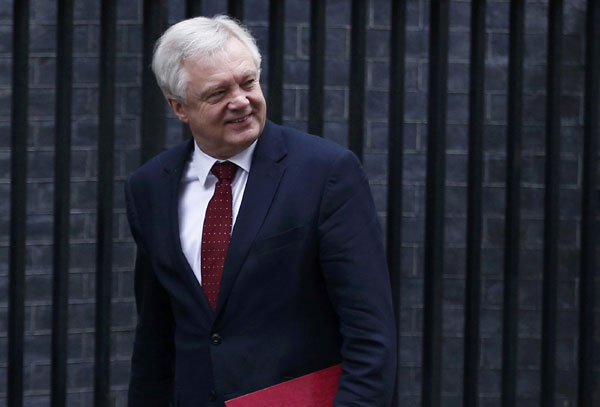 Britain's Secretary of State for Leaving the EU David Davis arrives for a cabinet meeting in Downing Street, London, January 31, 2017. [Photo/Agencies]
LONDON -- A policy paper spelling out the British government's plans for exiting the European Union was published Thursday.
Brexit Secretary David Davis listed 12 main points in the document detailing how the government wants to make its exit from Brussels and how it sees its new partnership with the remaining 27 EU members.
He said Britain's best days were still to come outside the EU.
The document lays out general principles rather than specific details and says the government will keep its positions closely held and will need at times to be careful about giving a running commentary in public.
The publication of the document, known as a white paper, came less than 24 hours after Prime Minister Theresa May was given an overwhelming majority in the House of Commons over her plans to trigger the Article 50 mechanism for leaving the EU.
Davis told members of parliament (MPs) in the Commons: "This White Paper confirms the prime minister's vision of an independent, truly global UK and an ambitious future relationship with the EU."
He said the exit strategy was based on principles that will guide the government following last June's referendum vote when a majority of people backed leaving the EU.
They cover Britain taking control of its own borders and law making, controlling immigration from EU countries into Britain and protecting workers' rights achieved through EU legislation.
The strategy also seeks to secure rights for EU citizens already living in Britain and the rights of British nationals living in EU countries.
Davis said the government recognizes EU principles which include freedom of EU citizens to freely cross borders of all member states. As a result, he said, Britain will leave the single market.